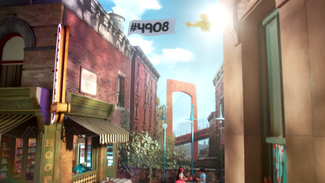 Picture
Segment
Description

COLD OPEN
Setting up today's theme of the theater, Oscar the Grouch watches Slimey star in a production of "Wormeo and Juliet."




SCENE 1
Nina reads "Little Miss Muffet" to Elmo, Abby and Big Bird. They wish everyone could hear the story and soon come up with the idea of turning it into a show they can perform. Chris hears this and jumps at the chance to get involved, showing off his scrapbook of his time as the lead in his elementary school play (as a broccoli). Nina is then given the role of director and the Two-Headed Monster joins in as well.

SCENE 1 cont'd
Chris takes on the role of costume designer and sets out fabrics to make costumes from. Abby is given the role of Miss Muffet and Elmo as the narrator. Chris is then assigned the role as the spider.




SCENE 1 cont'd
The Two-Headed Monster works as the set designer and argues over how to paint the flower stems, before realizing their two colors blend to make green. As Elmo goes over his lines as narrator, Big Bird admits that he wishes the play could have a happier ending. He finally earns a role for himself as the playwright.

SCENE 1 cont'd
The revised version of "Little Miss Muffet" plays before a small crowd, who love the production. At Chris' suggestion, Big Bird envisions his next project - "Broccoli-Spiders: The Musical."

Muppets / Film
Plan the Play
Elmo replays scenes from the street story, then footage of two girls putting on their own play.




Muppets
Abby Cadabby leads the gang in a song to introduce the letter of the day - T.
(First: Episode 4801)

Muppets / Celebrity
Elmo directs the theatrical production of "The Monster Who Loved Cookies," starring Chance the Rapper as the titular monster and Cookie Monster as Waiter #3.




Muppets
Cookie Monster's Foodie Truck
Camilla needs some cinnamon toast for her school's production of "Little Red Riding Hood." However, after setting out all the ingredients, Cookie starts up a fan that blows away all the cinnamon. He and Gonger venture to the forest and see how tree bark gets turned into cinnamon.

Muppets
Elmo's World: Theater

SCENE 2
Big Bird, Elmo and Abby start taking down the set for their show, upset that it's over. They decide to put on a new show tomorrow.

Outro (PBS)
Cookie Monster, Rosita and a girl dance fast and slow.
Community content is available under
CC-BY-SA
unless otherwise noted.