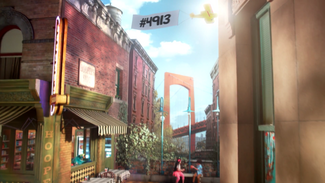 Picture
Segment
Description

COLD OPEN
Grover introduces a theme of "music" for today's show, interrupted by some sunglass-wearing chickens.
(First: Episode 4607)




SCENE 1
The jazz quartet of Mama Bear and the Monsters (Mama Bear, Louie, Freddy and Herry Monster) perform for a small crowd in the arbor, including Elmo, Abby, Bert and Ernie. They each become fascinated with a different instrument as each band member plays an encore solo.




SCENE 1 cont'd
As Bert goes to get the group's autographs, Elmo, Abby and Ernie talk about their favorite instruments and act out how they were played. When Bert returns, he admits the saxophone was his favorite instrument. They all think they should form a make believe band and play their pretend instruments for a stuffed-animal audience. However, Bert doesn't think he can play pretend saxophone unless he knows how to actually play one. Ernie hastily mentions his Uncle Ernisimo has a music store nearby and can teach Bert, who assumes this is going to be a ruse of some kind.




SCENE 1 cont'd
Ernie drops off Bert at Ernisimo's music shop, then quickly leaves to fetch Rubber Duckie. Soon after, Uncle Ernisimo emerges from the back room. Bert, believing it's Ernie in disguise, goes along with the shtick. Ernisimo plays his own saxophone and has Bert imitate the sounds and movements. After some practice, Bert is confident enough to join the band.




SCENE 1 cont'd
Bert arrives back on the street just in time for the concert, playing a wicked solo on his pretend saxophone. Uncle Ernisimo turns out to be a real, non-Ernie entity and applauds their performance and asks for an encore.




Muppets
Abby Cadabby leads the gang in a song to introduce the letter of the day - M.
(First: Episode 4827)

Muppets / Celebrity
To illustrate that M stands for "musician," self-proclaimed drum expert Grover teaches drumming to Questlove, who surpasses his teacher with ease.




Muppets
Cookie Monster's Foodie Truck
The Foodie Truck receives a call from Zooey Deschanel, who orders some banana chips after doing a musical performance. Gonger claims bananas are perfect for music by singing the word "banana" to Rossini's overture from The Barber of Seville. The monsters are all out of bananas, save for the peels, and dart off to the banana farm to collect some more.

Muppets
Cookie Monster and friends sing as they wait for the number of the day, which is how many cookies are being baked for him (to eat). Today's number is 18.
(First: Episode 4702)
In this airing, the Count counts the individual cookies.

Muppets
Elmo's World: Instruments
(First: Episode 4717)

SCENE 2
The Big Pretend Band signs off, as Bert reveals he's now taken up playing pretend sousaphone.

Outro (PBS)
Cookie Monster, Rosita and a girl dance fast and slow.
Community content is available under
CC-BY-SA
unless otherwise noted.