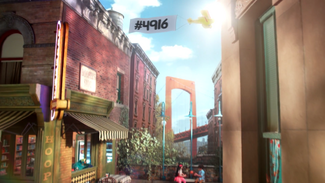 Picture
Segment
Description

COLD OPEN
Ernie sets up today's theme of mechanics. An Anything Muppet construction worker is in need of one, as her bulldozer is making funny sounds (animal sounds, to be exact).




SCENE 1
Elmo and Abby greet the viewer as they watch Chris attempt to repair Cookie Monster's foodie truck. Rudy, in a tin foil space outfit, rolls in on his bike. He clams to be "Ruprop," a visitor from the planet "Morlorp." Elmo and Abby play along and join in his special Morlorp greeting. He joins the Earthlings in watching the repairs of Cookie's "spaceship."




SCENE 1 cont'd
Nina comes by and, having worked on cars before, takes a look at what the problem is. She discovers what's stalling the engine - a wrapped up cookie stored inside; Cookie remembers putting it in there to keep it warm. Cookie drives off now that the truck is functional, and Ruprop decides it's time for him to leave as well. Inspired by Cookie's car troubles, Ruprop finds his space vehicle won't start either. Nina encourages Abby to take on the role of a space mechanic. Abby grabs a uniform and has the bike towed to her repair shop.

SCENE 1 cont'd
Over at the Bike Shop, Elmo becomes Abby's assistant as they replace Ruprop's floozerhopper and spark plug, while giving him a gloop change. Ruprop thanks the mechanics and takes off into the stars.

Muppets / Film
Plan the Play
Elmo replays scenes from the street plot, followed by footage of young girls pretending to be a mechanic and customer.




Muppets
Abby Cadabby leads the gang in a song to introduce the letter of the day - M.
(First: Episode 4827)

Film
M is for Mechanic: A girl recites a poem about the day she and her father had their car repaired by a mechanic.




Muppets
Cookie Monster's Foodie Truck
The daughter of a mechanic orders a mushroom quiche while she's visiting her dad today. However, Cookie has once again eaten the key ingredient they need - mushrooms. They drive to the mushroom farm to collect some more.

Muppets
Cookie Monster and friends sing as they wait for the number of the day, which is how many cookies are being baked for him (to eat). Today's number is 15.

Muppets
Elmo the Musical: Repair Monster the Musical (edited)
(First: Episode 4410)

SCENE 2
Elmo and Abby sign off, as Abby finishes her work on Elmo's wagon.

Outro (PBS)
Cookie Monster instructs the viewer on "the art of cookie eating", with aid from Rosita and a girl.
Community content is available under
CC-BY-SA
unless otherwise noted.