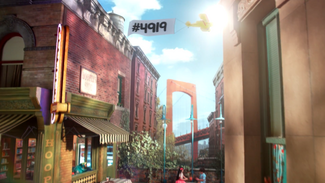 Picture
Segment
Description

COLD OPEN
Grover introduces today's theme of dogs using a pack of dogs, who drag him away.
(First: Episode 4630)




SCENE 1
Elmo encounters Grover, who is a dog walker today, walking Mrs. Crustworthy's dog Pookie. Elmo wants to be a dog walker too, but Grover asserts there are many things one must know before entering the profession. The most important thing is to never let go of the dog's leash, which he leads a musical number about. Grover tells Elmo to practice walking a dog, before Pookie drags him off to chase a cat.




SCENE 1 cont'd
Zoe comes across Elmo in need of a dog. She darts off and returns dressed as one to help Elmo practice. They walk to Hooper's Store, where Chris feeds her a pretend doggy treat. They run into Grover, now walking a huskie named Cupcake. Elmo thinks he's had enough experience to be a full-time dog walker, but Grover tells him he needs practice walking bigger, stronger dogs, like Cupcake, who drags Grover off on another cat chase.




SCENE 1 cont'd
To help Elmo practice walking a big dog, Zoe gussies up Snuffy to be a "Snuffleupa-dog." They walk to Hooper's, where Chris gives them a giant, pretend doggy treat. Grover and Cupcake join the group, when Cupcake gets loose from Grover's grasp to chase another cat. Elmo goes after him.

SCENE 1 cont'd
Grover mopes to Chris over his failure of being a dog walker. Elmo returns, having found Cupcake. Grover decides to make Elmo his assistant dog walker and they are then hired by a woman to walk her dogs, Thelma and Louise. The cat passes by once more and the dogs give chase, dragging the monsters behind.

Muppets / Film
Plan the Play
Elmo replays scenes from the street story, followed by footage of a girl becoming a dog walker.




Muppets
Abby Cadabby leads the gang in a song to introduce the letter of the day - D.
(First: Episode 4703)

Film
D is for Dog: Micha talks about his sister, and her service dog, Solar.
(First: Episode 4732)




Muppets
Cookie Monster's Foodie Truck
A young girl is having a birthday party for her dog and orders vanilla popsicles, a doggy-appropriate treat. Gonger chides Cookie Monster when they find they're out of vanilla beans, until Cookie reminds Gonger that he actually used up all the vanilla to make pudding. Gonger apologizes and they drive off to the vanilla farm for more.

Muppets
Cookie Monster and friends sing as they wait for the number of the day, which is how many cookies are being baked for him (to eat). Today's number is 14.
(First: Episode 4807)

Cartoon
A girl picks up 14 dogs to be walked.
Artist: Click 3X
(First: Episode 4318)

Muppets
Elmo's World: Dog Walkers
(First: Episode 4901)

SCENE 2
Elmo cuddles with Louise as he signs off, while Thelma has Grover tied up.

Outro (PBS)
Cookie Monster recites a poem about being kind, and demonstrates kindness by sharing a cookie with Rosita and a boy.
Community content is available under
CC-BY-SA
unless otherwise noted.