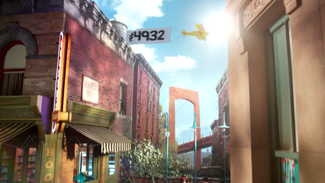 Picture
Segment
Description

COLD OPEN
Server Abby sets up today's theme of restaurants, as waiter Elmo tends to their (stuffed animal) customers.
(First: Episode 4720)

SCENE 1
Elmo, Abby and Baby Bear have porridge at Hooper's Store, where Baby Bear shares some of his "homemade tasty toppings." Everyone finds them delicious and Alan suggests Baby Bear could be a cook one day. Baby Bear thinks this might be a good idea, but he has no idea how restaurants work. Alan recalls playing make-believe restaurant as a kid, so the youngsters decide to do just that.




SCENE 1 cont'd
The trio sets up "The Garden Café" out by the garden and start assigning roles. They don't remember what a host or server does, so Abby poofs in Alan (in the midst of preparing things back at the store) to have him explain each job. Elmo becomes the host, Abby is the server, leaving Baby Bear as the cook. All they need now is a customer.




SCENE 1 cont'd
Goldilocks, one of the street's toughest critics, happens by and she agrees to play along. She places her order and Baby Bear carefully puts together the pretend meal.




SCENE 1 cont'd
The staff watch in anticipation as Goldilocks samples her meal. To their relief, she deems everything "just right." She goes off to hang out with Little Red Riding Hood, while Alan volunteers himself to be the gang's next customer.

Muppets / Film
Plan the Play
Elmo replays scenes from the street story, followed by footage of real kids playing restaurant.




Muppets
Abby Cadabby leads the gang in a song to introduce the letter of the day - R.
(First: Episode 4713)

Film
R is for Restaurant - Two kids describe their visit the Queens Comfort restaurant.
(First: Episode 4720)




Muppets
Cookie Monster's Foodie Truck
A young boy orders some tacos from the monster foodies. Cookie Monster has all the ingredients they need, but chows down on the tortilla shells, to Gonger's dismay. They drive to the factory, where they see corn being turned into the bread they need. After they send off the order, Gonger gives Cookie a spare taco shell, which he decides to share with his co-chef.
(First: Episode 4816)




Muppets
Count von Count and friends sing and stomp to find the number of the day - 9.
(First: Episode 4503)

Animation
At the Cloud 9 Diner, nine goats are served nine sandwiches.

Muppets
Elmo's World: Restaurants
(First: Episode 4720)

SCENE 2
As Abby and Baby Bear sign off, Mr. Johnson stops by their cafe. He faints when he sees their new hire - Grover.

Outro (PBS)
Cookie Monster, Rosita and a girl dance fast and slow.