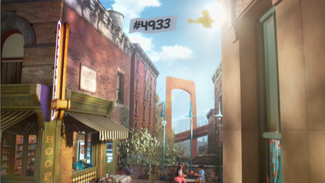 Picture
Segment
Description

COLD OPEN
Elmo tells the viewer that he's going camping today.




SCENE 1
Nina, Zoe, Rosita and Grover welcome the viewer in the midst of their ball game. Elmo approaches them and announces he's going to day camp this summer. Nina tells Zoe what day camp is, and mentions that she used to go to it as a kid. Grover, a self-proclaimed expert on camping, invites them all to a pretend day camp, complete with matching t-shirts. Nina mentions that she loved going on nature hikes, so Grover leads them on one.




SCENE 1
cont'd
In the park, Grover introduces the campers to a bush full of "beautiful petal-y thingies", which Rosita points out are flowers. Grover mistakes the sound of bees for a cellphone, then thinks the bush is a dancing bush, but there are actually squirrels inside.

SCENE 1
cont'd
Grover and the campers return to Sesame Street. Elmo is now looking forward to his regular day camp. Nina suggests they sing a camp song, and Grover breaks out with "Figaro", but Nina leads them all in "What Do Monsters Love to Do?"

SCENE 1
cont'd
Nina mentions the many other fun things that can be done at camp, so they all begin making friendship bracelets and playing tug-of-war. Grover doesn't succeed at making a bracelet, but everyone makes a bracelet for him. Rosita decides that since they have had so much fun at Camp Grover today, they should go to day camp along with Elmo.




Muppets
Elmo and the gang introduce the letter of the day, C, with a song and dance.
(First: Episode 4523)

Film
C is for camp: a kids' day camp is profiled.

Film
Kids find C-words in a forest.
(First: Episode 4243)




Muppets
Cookie Monster's Foodie Truck
Gonger and Cookie receive a request from a girl at camp for some s'mores. Cookie Monster eats the chocolate, so he and Gonger go to a chocolate factory to get some more.

Muppets
Cookie Monster and friends sing as they wait for the number of the day, which is how many cookies are being baked for him (to eat). Today's number is 12.
(First: Episode 4710)

Animation
"Ladybugs' Picnic" (remake)
(First: Episode 4237)

Muppets
Elmo's World: Camp

SCENE 2
While playing another game of tug-of-war with the gang, Grover signs off.

Outro (PBS)
Cookie Monster, Rosita and a girl dance fast and slow.
Community content is available under
CC-BY-SA
unless otherwise noted.