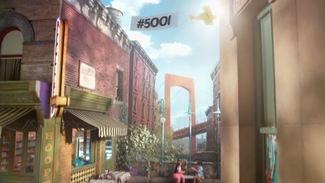 Picture
Segment
Description

COLD OPEN
Elmo tells the viewer about friends.
(First: Episode 4614)




SCENE 1
Big Bird video chats with his cousin Little Bird, who invites him to come for a visit in California. Big Bird believes he can walk there by lunchtime, but Nina tells him California is much further away than he thinks, and takes him away to explain better.

SCENE 1 cont'd
Nina shows Big Bird, Elmo, Abby, and Chris her map of the United States of America, and how far away Little Bird is. Abby tries to magically transport Big Bird there, but she accidentally sends Chris to a frozen wasteland. After bringing him back, Big Bird and Nina decide to take a road trip together, seeing the sights and meeting new friends along the way.

SCENE 1 cont'd
Elmo visits Big Bird as he starts packing. Elmo says he usually brings his toothbrush, comb, and pajamas. But, Big Bird has no use for the first two items. The two sing a quick song about the things Big Bird will bring, including his own set of pajamas.




SCENE 1 cont'd
Alan, Chris, Abby, Snuffy, Cookie Monster, and Granny Bird gather to see Big Bird off. Chris and Alan provide him with some birdseed cookies, while Cookie Monster's mommy has prepared a bag of cookies for Nina (which Cookie can't bear to part with, so he eats it). Elmo arrives late with a drawing for Big Bird. He promises Elmo he will video chat every day to report how his trip is going.

SCENE 1 cont'd
Nina and Big Bird make their way to her Bike Shop van and sing "Here We Go," before they drive off on their trip.




Muppets
Elmo and friends sing and clap as they find out the letter of the day - F.

Muppets / Celebrity
Dave Grohl, Big Bird, and Elmo sing "Here We Go."




Muppets
Cookie Monster's Foodie Truck
On a hot day, a boy wants to do something kind for his friends and orders some refreshing fruit smoothies. Cookie Monster and Gonger have all they need, except for milk, so they drive to the farm and factory to see the process of making milk.
(First: Episode 4828)

Muppets
Elmo and Abby pose as astronauts and sing about finding the number of the day by counting Martians. Today, there are 7.

Muppets
Elmo's World: Friends
(First: Episode 4701)

SCENE 2
Elmo and Abby review Big Bird's travel route and sign off.