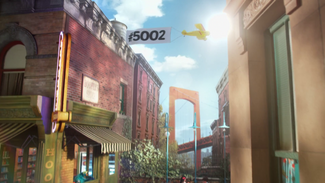 Picture
Segment
Description

COLD OPEN
A hungry Cookie Monster poses as a chocolate chip cookie to blend in with a group of foods one bakes (a cookie, bread, and a pizza). The food catches wise and runs off before Cookie can start eating.




SCENE 1
Alan chats with Cookie Monster and Gonger, when Elmo and Rosita interrupt with something important - today is Nina's birthday! They get the idea to bake her a cake, and Grover darts in, claiming to be a chef. Cookie and Gonger think they should bake it, considering their profession. Alan jokes that they have a competition on their hands, which brings about Michael Che as he hosts "The Great Sesame Cake-Off." He assigns Alan to be Grover's teammate, while Elmo and Rosita are given the role of judges. Michael gives the two teams one hour to make the best cake for Nina.




SCENE 1 cont'd
In the Foodie Truck, Gonger and Cookie have all the ingredients they need - except butter, which Cookie mistook for floor wax. Gonger slips his way out to Hooper's Store to get some more, but Grover needs all the butter to prepare his buttercream frosting.




SCENE 1 cont'd
While Gonger rushes to the supermarket, Michael and the judges watch the video feeds of both teams. Alan methodically prepares his cake in the store. Meanwhile, Cookie accidentally changes the browser on the truck tablet, showing a sock-buying site, making him think socks are needed for the recipe.




SCENE 1 cont'd
Cookie switches the tablet to a photo of Gonger and he tries forcing his partner into the bowl when he returns. In the process, Cookie spills their milk. He gets frustrated with the endeavor and sobs. Gonger helps him to calm down and get his confidence back as they start over. Meanwhile, Alan finishes the cake layers, but Grover accidentally spills his frosting.




SCENE 1 cont'd
Time runs up for the teams and everyone sees the result - Alan and Grover just have the cake layers, while the Monster Foodies were only able to prepare frosting. Elmo and Rosita deliver their judge results - there shouldn't be a competition at all. The two teams agree to combine their efforts and make one cake for Nina, which she greatly appreciates.

Muppets
Big Bird's Road Trip
Big Bird video chats from Washington, D.C., where he talks with resident Cameron.




Muppets
Elmo and friends sing and clap as they find out the letter of the day - B.

Film
B is for Baking: A boy and his grandfather bake some mango flan.

Cartoon
Abby's Amazing Adventures
Abby and Rudy become the kitchen staff at a bakery, where they must follow the directions and make pies in honor of National Pie Day.

Muppets
Elmo and Abby pose as astronauts and sing about finding the number of the day by counting Martians. Today, there are 5.

Muppets
Elmo's World: Cooking
(First: Episode 4730)

SCENE 2
As Elmo, Cookie, and Grover sign off, Cookie scarfs down the last piece of cake (then the plate).
Community content is available under
CC-BY-SA
unless otherwise noted.