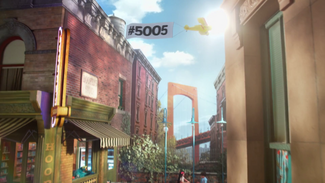 Picture
Segment
Description

COLD OPEN
Aided by a beat-boxing pigeon, Bert, his brother Bart, and his cousin Bertina introduce today's theme of music with a song.

SCENE 1
Elmo, Abby, and Chris think of silly things they've always wanted to do (like have a drink in the rain). They then meet a dog named Mick, who has always wanted to sing in a band. Elmo and Abby decide to make his dream come true.

SCENE 1 cont'd
The three visit the garden, where a string quartet is practicing. Mick howls along, but feels he is much too loud for the music they're playing.

SCENE 1 cont'd
The trio now comes across a rock band, but as Mick tries joining in, he finds his howling is drowned out by the loud rocking.




SCENE 1 cont'd
Mick decides to give up on finding the right band he can sing with. Elmo and Abby, being musically inclined themselves, realize they can simply form their own band together. Later in the evening, Mick and the Howlers put on a show for a small crowd, singing about not giving up.

Muppets
Big Bird's Road Trip
Big Bird video chats from Chicago, Illinois with local kid Malia.




Muppets
Elmo and friends sing and clap as they find out the letter of the day - M.

Muppets / Celebrity
Charlie Puth teaches Grover about making music, then performs "Sing" with Grover, Elmo, Abby, and Cookie Monster.




Muppets
Cookie Monster's Foodie Truck
The Foodie Truck receives a call from Zooey Deschanel, who orders some banana chips after doing a musical performance. Gonger claims bananas are perfect for music by singing the word "banana" to Rossini's overture from The Barber of Seville. The monsters are all out of bananas, save for the peels, and dart off to the banana farm to collect some more.
(First: Episode 4913)

Muppets
Elmo and Abby pose as astronauts and sing about finding the number of the day by counting Martians. Today, there are 4.

Muppets
Elmo's World: Instruments
(First: Episode 4717)

SCENE 2
Elmo, Abby, and Mick perform a musical goodbye.
Notes
A dedication to Caroll Spinney, who had died a week prior on December 8, appears on HBO's on-demand and streaming releases of the episode.
Some sources give this episode's title as "Mick and The Good Fit."