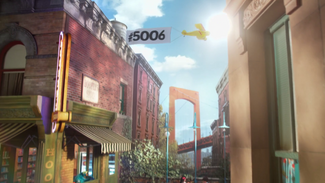 Picture
Segment
Description

COLD OPEN
Grover sets up today's theme of games with a dog named Woofy. Grover starts a game of fetch, where he's the one who fetches the stick.

SCENE 1
Chris assists Elmo, Abby and Rudy as they play a board game. Rudy lands on a spot that causes him to lose a turn. He doesn't find this fair and quits playing. Chris helps calm him down, while Abby gets an idea on how to make the game seem more fun for Rudy. She waves her wand and casts a spell...




SCENE 1 cont'd
...turning Sesame Street into a giant board game called "Sesame Street Stoplight." Host Chris explains the rules - they must complete challenges as a team, but if they need time to calm down, they can call for the stoplight to help. Abby spins the activity wheel, which stops on "Shape Shopping."




SCENE 1 cont'd
The game takes place in Hooper's Store, where the team has a short time to find three triangles within the store. Rudy starts getting frustrated when he can't find any triangles, so he resolves to give up again. Abby calls "Red Light!", allowing them time to calm down and discuss a plan to win. They each cover a different part of the store, allowing them to find three triangles before time runs out.




SCENE 1 cont'd
Rudy spins the wheel next, which gives them their next challenge - "Gum Drop." Chris sits beneath a gumball machine, where the others must hit the target with a beanbag to make the gumballs fall out. Elmo and Rudy both miss their shot, leaving Abby to carry the team. She starts to feel the pressure and calls for a "Red Light." Her teammates help her understand it's only a game and it's important to not give up. Abby resumes the game and successfully hits the target, winning the game.

Muppets
Big Bird's Road Trip
Big Bird talks with Kairav in Kansas City, Missouri.




Muppets
Elmo and friends sing and clap as they find out the letter of the day - G.
(First: Episode 5004)

Film
G is for Games: A girl talks about playing different types of games.

Muppets
Cookie Monster's Foodie Truck
Ellie Kemper joins Cookie Monster and Gonger in the truck for game day. However, Cookie eats all of their snacks, so Ellie teaches them how to prepare "zachos" (zucchini nachos).

Muppets
Elmo and Abby pose as astronauts and sing about finding the number of the day by counting Martians. Today, there are 12.

Muppets
Elmo's World: Games

SCENE 2
As Elmo and Abby sign off, Rudy jokes about losing their board game, when in actuality, he's won.
Community content is available under
CC-BY-SA
unless otherwise noted.