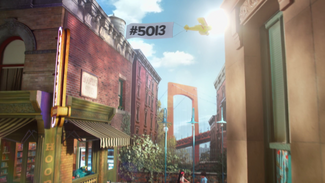 Picture
Segment
Description

COLD OPEN
In the midst of a game of tag with Mr. Snuffleupagus, Big Bird notices a moving truck on the block, meaning a new neighbor is coming to Sesame Street today.




SCENE 1
Chris greets the viewer and tells Elmo and Rosita that a new family is moving to Sesame Street today. This includes a young girl named Charlotte, but she prefers to be called Charlie. She is surprised to see there are friendly monsters on the block. She tells them about how her parents were in the military, so they've moved to many different places. The monsters offer to be her friends and to show her around the neighborhood. As they head off, Rosita tells Charlie, "You've never seen a place like this. Everything happens here, you'll love it!"

SCENE 1 cont'd
In the arbor, Charlie is surprised by the sight of a pogo-sticking penguin, as well as walking, talking letters and numbers. She is also briefly introduced to the Count, who counts the one new friend on Sesame Street.

SCENE 1 cont'd
Next, they stop by the garden to meet Abby Cadabby. She presents the new neighbor with a flowery bracelet.

SCENE 1 cont'd
After a brief meeting with Bert and Ernie, Elmo and Rosita show Charlie Big Bird's nest. Big Bird and Snuffy arrive and she's taken aback by their size. They all engage in a game of tag.




SCENE 1 cont'd
After the game, Charlie remarks how friendly the whole street seems to be. That is, except for Oscar the Grouch, who tells them to scram. He balks at the notion of the two becoming friends, but Charlie is certain it can happen, citing the many different types of friends there are on the street. The whole gang gathers together to sing "Anyone Can Be Friends."

Muppets
Big Bird's Road Trip
Big Bird and Elmo watch a video message from Zoe, who talks about her life in the Gila River Indian Community in Arizona.




Muppets
Elmo and friends sing and clap as they find out the letter of the day - F.
(First: Episode 5001)

Muppets / Celebrity
Thomas Rhett sings "This Is My Street" with the many residents of Sesame Street.
(First: Episode 5009)




Muppets
Cookie Monster's Foodie Truck
On a hot day, a boy wants to do something kind for his friends and orders some refreshing fruit smoothies. Cookie Monster and Gonger have all they need, except for milk, so they drive to the farm and factory to see the process of making milk.
(First: Episode 4828)

Muppets
Elmo and Abby pose as astronauts and sing about finding the number of the day by counting Martians. Today, there are 2.

Cartoon
Two friends count twos on their way to the park.

Muppets
Elmo's World: Sharing
(First: Episode 4706)

SCENE 2
In the evening, Charlie thanks Elmo and Rosita for their friendship and goes home to tell her parents about her first day on Sesame Street. Elmo and Rosita say goodbye.
Notes