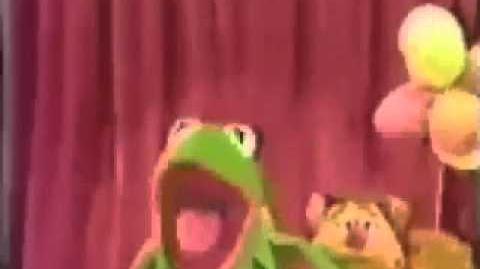 Miss Piggy plants a rumor in Tongue Magazine alleging that she and Kermit were secretly married in Las Vegas. Kermit gets so mad that he fires Piggy, and asks Loretta to take her place. Loretta appears in "Veterinarian's Hospital" and "Pigs in Space", where she's a great success. Piggy tries to make a grand, dramatic exit, but she gets so jealous of Loretta that she invades the Swinetrek herself.
Songs/Sketches
Notes
Early story notes indicated a number of ideas not used in the final episode. During Kermit's first introduction, he would appear very tired with bloodshot eyes. Later, Piggy would be heard yelling from the wings as Kermit introduces Loretta's first number. A Swedish Chef sketch was to follow the number as well.[1]
Episode
| Picture | Description |
| --- | --- |
| | Cold Open: When Pops greets Loretta at reception, he lists her accolades, followed by instructions on how to keep her dressing room tidy. Loretta confides that she'd begun to wonder about the show when her contract arrived written in crayon. |
| | Gonzo's Opening: Gonzo blows the trumpet and his head explodes, clean from his body. It appears again on the side and lets out a hearty laugh. |
| | Animals wearing bowler hats sing "Ain't Nobody Here But Us Chickens" in a barn, holding two chickens captive and blindfolded. When the farmer (played by Gonzo) gets wind of the situation, he sends in a team of chickens with guns to clear the place out. |
| | Backstage, a Whatnot photographer snaps a photo of Kermit and Piggy. Scooter informs him that it's for a cover story on Tongue Magazine revealing that they'd secretly been married a year ago in Las Vegas. Kermit, having had enough of these antics, loses his cool and fires Miss Piggy. Calling the Snorer's Chorus out on stage, he tells her that she can be replaced. |
| | Loretta plays a seismologist singing "I Feel the Earth Move" as Thog destroys a small city. Gonzo says he hasn't laughed so much since he saw Earthquake. |
| | Backstage, Kermit and Piggy continue to argue. Loretta attempts to mediate and defends Piggy's position. "Who do you think you could get to play those scenes with the same verve and talent and pizzazz?" When Kermit says he'd hoped she would in Vet's Hospital, her tune changes immediately. Kermit says anyone can play that part. Piggy, left alone, is asked by a whatnot if she works there. She karate chops him in frustration. |
| | Nurse Loretta fills in on Veterinarian's Hospital where Janice says she remembers seeing her on M*A*S*H. |
| | UK Spot: Rowlf has gathered Fozzie, Gonzo, Floyd, Scooter and some of the Muppet gang to coordinate a goodbye for Piggy. They run through brief renditions of "Auld Lang Syne" and "For She's a Jolly Good Porker", celebrating the fact that she will be taking Foo-Foo with her. |
| | Touched by their tribute, Piggy retreats to her dressing room and sings "Some of These Days" while she packs with Foo-Foo. |
| | Backstage, Piggy tries to smooth things over with Kermit, but only manages to remind him about the Tongue Magazine cover story. Loretta comes downstairs dressed as First Mate of the Swinetrek in full Piggy poise. Piggy decides to get even for the betrayal by staying. |
| | In Pigs in Space, Link Hogthrob, covered in ladies' underwear, demands that "First Mate Piggy" (Loretta) stop hanging her things to drip-dry in the shower. Loretta counters that he's been leaving his girdle lying around; she knows it's his because his mom sewed his name into it. Piggy enters the bridge to take over, surprised to hear Loretta welcome her back. Furious that she hasn't left, Kermit tries to kick her out, but Loretta brings them back together singing a rendition of "Side by Side by Side / What Would We Do Without You?" They're joined on the Swinetrek set by the rest of the Muppet cast, while even Statler and Waldorf join in from their box seats. |
| | Closing out the show, Loretta tells Kermit she hopes no one really thought she was trying to replace Piggy. "When a great actress and a great star has developed a role, it's impossible for another actress to fill her shoes." Piggy then walks on stage dressed as Loretta's character on M*A*S*H but says the shoes don't fit. |
Edits
Nickelodeon: The "Veterinarian's Hospital" sketch was cut from this episode.
Cast
Muppets:
Background Muppets:
Performers
Gallery
Sources