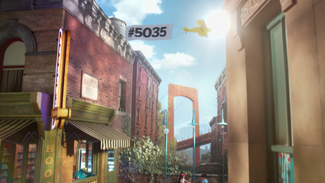 Picture
Segment
Description

COLD OPEN
A herd of animals helps Elmo set up today's theme of animals.

SCENE 1
Chris and Elmo arrive at their campsite, humming a tune. Chris welcomes the viewer and explains he and Elmo are out camping to get away from work. Chris unpacks and shows all their supplies, including the hot dogs and marshmallows they'll be having for dinner. Elmo wants to start the fire now, but Chris points out they'll need lumber first.

SCENE 1 cont'd
Suddenly, a tree next to them falls over. Elmo exclaims, "Look Chris! The wood collected itself!" A beaver appears, saying he cut down the tree with his teeth. Elmo wants him to stay for dinner, but none of the food is appetizing to the beaver. He eats bark and Elmo has Chris get some bark from the tree, despite Chris' protests to not make food on his vacation (which is exactly why he left the street).

SCENE 1 cont'd
Chris is ready to dig into their food, when two hungry turtles arrive. However, they don't want to eat the hot dogs and bark and name the plants and bugs they eat. Chris goes to find some leaves and dandelions for them.

SCENE 1 cont'd
When they all begin to eat, a pair of raccoons arrive. Elmo asks them to stay and coaxes Chris into letting them stay. The raccoons don't eat any of the food prepared, so Chris once again ventures into the woods to find them nuts and berries.

SCENE 1 cont'd
Before they all begin dinner, the beaver jokingly has them make sure no one else shows up. Lo and behold, a family of migrating ducks land. They expect room service and cable, but Elmo says they only have animals. Chris is told they eat water plants, so he dives into the nearby pond to get them (Unfortunately, he kept his cell phone in his pocket).

SCENE 1 cont'd
Now that every animal has what they want for dinner, Chris has them all begin the quiet meal, which turns out to be anything but quiet.

SCENE 1 cont'd
Now that the sun has set, Elmo and Chris get into their sleeping bags and reflect on their wild day. Elmo wants to camp out every night, while Chris negatively mugs to the viewer. All the animals (who are inside Chris' sleeping bag) wish them a good night.

Muppets
Big Bird's Road Trip
Big Bird and Elmo watch a video message from Hannah in Singapore.




Muppets
Abby Cadabby leads the gang in a song to introduce the letter of the day - A.
(First: Episode 4807)

Celebrity
A is for Animals: The Irwin family (Bindi, Robert, and Terri) show off the various animals at their Australian zoo.

Cartoon
Abby's Amazing Adventures
Basket takes Abby and Rudy to an African plain. They pretend they're veterinarians and give a baby elephant a check-up.
(First: Episode 4901)

Muppets
Cookie Monster and friends sing as they wait for the number of the day, which is how many cookies are being baked for him (to eat). Today's number is 14.
(First: Episode 4807)

Animation
A singer counts 14 bunnies on a hill, in a log, and in the field.

Muppets
Elmo's World: Habitats
(First: Episode 4729)

SCENE 2
Elmo and the animals say goodbye.
Notes
Community content is available under
CC-BY-SA
unless otherwise noted.