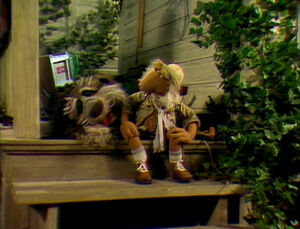 Cotterpin Doozer is accused of consorting with Fraggles by Tumbrell Doozer. At Cotterpin's trial, Cotterpin will lose her job as Architect Doozer's apprentice unless she can prove to Judge Gavel Doozer that Fraggles are noble, intelligent, and worthy of respect. Unfortunately for her, a Baby Poison Cackler is about to hatch and every Fraggle but Large Marvin Fraggle and dim-witted Feenie Fraggle left for a short vacation at the Lesser Galleries until the dangerous creature has hatched and moved on. Now Cotterpin has to get Large Marvin and Feenie to prove themselves to Judge Gavel Doozer.
Meanwhile, Uncle Traveling Matt observes the outdoor relaxing of Doc and Sprocket.
Supporting cast
Fraggle Facts
Large Marvin appears to have been the only Fraggle to have ever actually entered Doozer Dome; unfortunately he went in backwards and got stuck. So, technically Large Marvin's behind seems to have been the only part of a Fraggle to have entered Doozer Dome.
Songs
Video releases