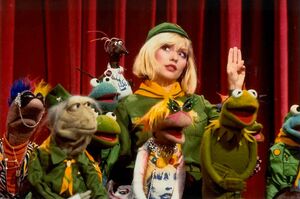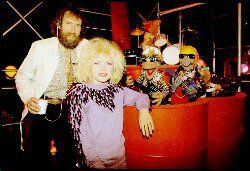 Robin's Frog Scout troop visits the show, getting in everyone's way backstage. They ask Debbie for help earning their punk merit badges, and she teaches them how to do the pogo. When Gonzo cancels his act, the Frog Scouts get their chance to do a performance of close-order drills.
Songs/Sketches
Notes
Kermit and Debbie's duet is one of the few times when The Muppet Movie is mentioned on the show -- see also episodes 322 and 418. Debbie lists rainbow songs that they could sing, and Kermit says she left one rainbow song out -- "my rainbow song."
The Newsman makes a backstage reference in his News Flash: "Famous French clothing designer David Lazour was arrested today under poultry laws for designing clothes that can suddenly turn into chickens." David Lazer was the show's executive producer.
"The Hunchback of Notre Dame" puppet was used on Muppets Tonight, except always referred to as Mulch, and in those appearances is Dr Phil van Neuter's brother-in-law/lab assistant.
Cast
Muppets:
Background Muppets:
Performers
Community content is available under
CC-BY-SA
unless otherwise noted.