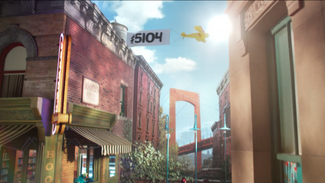 Picture
Segment
Description

COLD OPEN
Elmo gets a quick check up from a doctor, setting up today's theme of doctors.




SCENE 1
Elmo and Chris see Abby sticking boo-boo bandages all over herself and her plants, believing they are stickers. Oscar, appearing from the compost bin, is disgusted by the cute fixtures. Chris explains the purpose of the bandage and shows them one he has covering a scrape (which Oscar likes). Abby and Elmo find bandages very interesting and want to help out others with boo-boos. With a spell and a song, Abby and Elmo form the Boo Boo Busters! They hear the sound of someone in pain and rush off to help them.




SCENE 1 cont'd
They find Big Bird, who has a scrape on his beak. They walk him through their procedure - first, Elmo checks Big Bird's heartbeat. Next, Abby cleans the scrape area with an antiseptic wipe. Then, they apply a cute, birdie bandage and give him the boo-boo "kiss-kiss." Oscar, watching the whole ordeal from nearby, is even more appalled and splits. The Boo-Boo Busters hear more cries of pain and head off.




SCENE 1 cont'd
They reach the Two-Headed Monster, who have boo-boos on their noses. The monster is afraid to have the wipes, because of the sting it gives. Chris teaches them to calm down with some belly breathing and they feel fine after being wiped. They receive some bandages covered with hearts and more kisses.

SCENE 1 cont'd
Oscar, back in his normal trash can, can't take anymore and goes inside, slamming the lid on his finger by accident. He reluctantly allows the Boo-Boo Busters to take care of his finger, even giving him a stinky fish bandage. He becomes angry when they kiss his boo-boo, however.

Insert
I Wonder, What If, Let's Try
Elmo rides his trike down the block and hears a song coming on...




Muppets
Elmo and friends sing and clap as they find out the letter of the day - D.
(First: Episode 5010)

Film
D is for Doctor: Diego goes to the doctor for a checkup.
(First: Episode 4703)

Muppets
Elmo and Big Bird hear the sounds of the Foodie Truck approaching...




Muppets
Cookie Monster's Foodie Truck
A young boy orders some pumpkin soup, which he will bring to his brother in the hospital. However, all that remains of the Foodie Truck's pumpkin supply is the top, which Cookie uses as a stylish hat. The monsters drive off to the pumpkin patch to get another pumpkin.
(First: Episode 4925)

Muppets
Elmo and Abby pose as astronauts and sing about finding the number of the day by counting Martians. Today, there are 14.

Celebrity
Hailee Steinfeld sings "

I Wonder, What If, Let's Try

."
(First: Episode 5103)

Muppets
Elmo's World (Monster Edition): Doctors

SCENE 2
Elmo and Abby, still posing as Boo-Boo Busters, sign off.