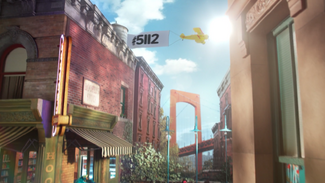 Picture
Segment
Description

COLD OPEN
Elmo sets up today's theme of games. Oscar prefers grouchier games than what Elmo likes playing.




SCENE 1
Elmo is in the mood for a snack and heads over to Hooper's Store. However, Chris has his hands full with many other customers (including Bert and Gladys the Cow) who are ahead of Elmo; he is told he's #6 in line. He finds it very taxing to wait for his turn to come, a feeling shared by Rosita, who is one place ahead of him. To take their minds off waiting, they decide to play a game. Rosita recalls how she and her abuela make up their own games when waiting and she leads a short song about it, accompanied by an Anything Muppet guitarist (startling Chris by appearing and disappearing from nowhere).

SCENE 1 cont'd
Elmo and Rosita's game involves them finding something red within the store. They each find a red object, but the game has barely occupied any time; Gladys, customer #3, collects her "moo-bile" order and there's still more customers left. The monsters go outside to make their game more exciting.




SCENE 1 cont'd
Rosita adds a new rule to enhance their game - when they see a red object, they must shout "¡Rojo!" (the Spanish word for "red") They spot many red things, including Grover's carrying bag; he at first thinks they're mispronouncing his name. He becomes frustrated too when he places an order and is told about the long wait. Rosita helps him understand what they're doing to pass the time by cuing the song again, startling Chris once more by the surprise musician appearance.




SCENE 1 cont'd
Grover comes up with a new rule - after they shout "¡Rojo!", they must run to the front door of Hooper's; he takes the long route, unfortunately. The monsters split up and look for red things. Grover and Rosita make it back, but Elmo has straggled behind. Elsewhere, Elmo looks around for something red and realizes he himself is red. Chris tells Rosita it's now her turn to order, but she's having much too fun playing and offers her turn to Elmo. He and Grover both don't want to stop playing as well. Chris remarks that he must now wait for another customer, so they cue up another reprise of the waiting song.

Insert
I Wonder, What If, Let's Try
Elmo finds Isaiah and Kate playing the Animal Game, where they guess what animal they're pretending to be. Elmo adds a new rule, where they then must find something that begins with the same letter.




Muppets
Elmo and friends sing and clap as they find out the letter of the day - G.
(First: Episode 5004)

Film
G is for Games: A girl talks about playing different types of games.
(First: Episode 5006)

SCENE 2
Elmo and Rosita play a game of hide-and-seek by the Sesame Street laundromat, when they hear the sound of the Foodie Truck coming...

Muppets
Cookie Monster's Foodie Truck
Ellie Kemper joins Cookie Monster and Gonger in the truck for game day. However, Cookie eats all of their snacks, so Ellie teaches them how to prepare "zachos" (zucchini nachos).
(First: Episode 5006)

Muppets
Elmo and Abby pose as astronauts and sing about finding the number of the day by counting Martians. Today, there are 10.
(First: Episode 5012)

Muppets
Elmo's World: Games
(First: Episode 5006)

SCENE 3
As the monsters recap the day and sign off, the Muppet guitarist appears once again to lead them in another reprise of the waiting song.
Notes