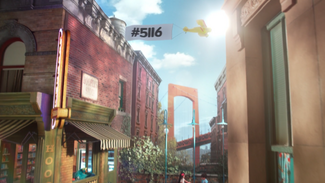 Picture
Segment
Description

COLD OPEN
Elmo and his popsicle stick pal "Sticky" set up today's theme of arts and crafts.




SCENE 1
Elmo shows off a glitter jar he made with Alan earlier. He finds that watching the glitter slowly move about the jar helps him calm down. Across the way, he sees Nina at work at the Bike Shop and gives her a cheerful greeting. However, Nina is in no mood for pleasantries; she's very frustrated dealing with a busted scooter. Grover comes by, having caught one of her loose springs on his nose. He and Elmo confer about Nina's unfortunate attitude and Elmo proposes making her a glitter jar of her own, though Grover has no idea what that is.

SCENE 1 cont'd
Elmo shows his glitter jar to Grover, who finds it entrancing and calming. They see Nina is still frustrated by her work and Grover remarks that she may need two jars to help her calm down.




SCENE 1 cont'd
Outside the community center, Alan walks the monsters through the process of making their glitter jars. Grover, self-proclaimed glue-putter-inner, squirts most of his glue around the outside of his jar.




SCENE 1 cont'd
Grover wishes to put a bow on his jar, since it's a gift, but finds his erratic glue spreading has gotten the outside of the jar sticky...and he gets stuck to it. Elmo tries to pull him loose, but only manages to get stuck himself. The monsters panic, as they are now unable to present Nina with their jars and calm her down. They see Abby in the area and ask for help. Abby magically frees them, then rapidly produces her own glitter jar to help their cause.




SCENE 1 cont'd
Back at the Bike Shop, Nina is ready to give up, when the gang comes over and presents her with their gifts. She admits that they've helped her start to feel calmer and she gives the scooter another try. Cool-headed once again, Nina is finally able to repair the scooter and thanks the youngsters for their help. They then hear Mr. Johnson complaining about his order outside of Hooper's Store. Grover realizes he's supposed to be a waiter today and runs off to fulfill his customer's needs. Nina remarks that there aren't enough glitter jars in the world that will calm that situation down.

Insert
I Wonder, What If, Let's Try
Elmo's friends Roman and Emma make their own glitter jars. To make more, they raid the recycling bin for different kinds of containers.




Muppets
Elmo and friends sing and clap as they find out the letter of the day - C.
(First: Episode 5019)

Song
"Recyclables"
(First: Episode 4514)

SCENE 2
Elmo and Abby make some pieces of art with glue and glitter. They then hear the Foodie Truck approaching...




Muppets
Cookie Monster's Foodie Truck
A young artist orders a fruit snack, requesting it be prepared in an artistic manner. Cookie Monster sketches out a display, but to complete it, he and Gonger must go out to the orchard to get some starfruit. Once it's retrieved, the monsters figure out how they can use chopsticks to help create their fruit masterpiece.

Muppets
Elmo and Abby pose as astronauts and sing about finding the number of the day by counting Martians. Today, there are 5.
(First: Episode 5002)

Animation
Five crayons work together to draw a number 5.
(First: Episode 4835)

Muppets
Elmo's World: Crafts
(First: Episode 4817)

SCENE 3
While Grover stares, mesmerized by his glitter jar, Elmo recaps the events of the day and uses "Sticky" to say goodbye.