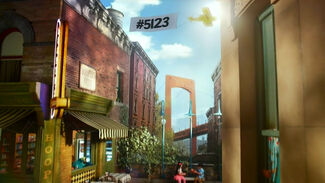 Picture
Segment
Description

COLD OPEN
Ernie has Elmo guess what we're learning about today, using Rubber Duckie and an ice cube tray as clues. It's … water!

SCENE 1
On a way hot day, Alan reads a story about a snowman to Elmo and Abby, but it doesn't distract them from the exhausting heat. Abby thinks they should go to the North or South Pole, but Alan offers them some ice cream instead. When Alan leaves, Elmo gets an idea to make a snowman of their own, just like in the story.




SCENE 1
cont'd
Abby poofs a snowman into view, and they cool off by giving it a hug. They go off to fetch some accessories for the snowman, starting with a scarf, knitted by an octopus.

SCENE 1
cont'd
When Elmo and Abby return to the steps, they find the snowman is gone. In song, they imagine where Mr. Snowman might have gone - the jungle? The ocean? The moon?

SCENE 1
cont'd
Abby notices a puddle of water on the ground. She and Elmo theorize that a dog came by, shook itself dry and made the snowman wet, causing him to go get a towel to dry off. Abby remembers that Nina has some extra towels at the laundromat, so they venture over there.




SCENE 1
cont'd
At the laundromat, they check with Nina if she's seen a snowman, but she hasn't. They reprise their wondering song and imagine the snowman in other settings.

SCENE 1
cont'd
Oscar enters, complaining about their singing. They ask if he's seen a snowman, and he says he hates them because they're made of nice, clean snow … which is made of water … which he only likes when it's muddy and yucky. He offers them some sardine frozen yogurt, which reminds them of the ice cream that Alan was going to give them. They head for Hooper's Store while Oscar stays behind and offers his smelly treat to Nina.




SCENE 1
cont'd
Neither Alan nor a Honker have seen a snowman today. Alan shows them their ice cream, which is melted by now, as does happen to frozen things on a hot day. They both realize that the same thing happened to the snowman, which explains the presence of the puddle.

SCENE 1
cont'd
Abby and Elmo are proud that they figured out what happened to the snowman. Alan takes them inside Hooper's and gives them more ice cream, which they decorate like snowmen.

Insert
I Wonder, What If, Let's Try
Elmo's friends Jacob and Layla try pouring liquids out of different shaped jars into same-size glasses to compare quantity.




Muppets
Abby Cadabby leads the gang in a song to introduce the letter of the day - W.
(First: Episode 4825)

Cartoon
"Water": A song shows the importance of water. (rerecorded vocals)
(First: Episode 4417)

SCENE 2
Elmo and Abby play tag, then take a break to sip some water. They overhear the Foodie Truck coming …




Muppets
Cookie Monster's Foodie Truck
Monica, a young yoga enthusiast, requests a twisty snack, so Cookie and Gonger venture to the seaside salt farm for a pretzel additive.

Muppets
Elmo and Abby pose as astronauts and sing about finding the number of the day by counting Martians. Today, there are 11.
(First: Episode 5016)

Muppets
Elmo the Musical: Beach the Musical (edited)
(First: Episode 4632)

SCENE 3
Elmo and Abby reflect on what they've learned about water today, and sign off.