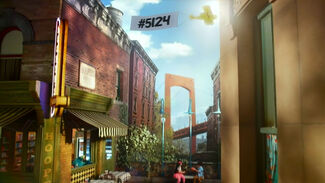 Picture
Segment
Description

COLD OPEN
Elmo introduces today's subject: blocks. He and Slimey like building block towers, as well as knocking them down, which surprises Oscar — he thought only Grouches liked knocking down things.

SCENE 1
Elmo and Rosita are getting ready to build the tallest block tower ever, when Chris alerts Elmo that his grandmother is coming for lunch today. Can they build their block tower before lunch?




SCENE 1
cont'd
Elmo and Rosita proceed to build the tower while singing about it. Rosita is impressed with the tower's height, but Elmo thinks it could be taller. Rosita frets when she realizes they're all out of blocks, but Elmo wonders if they can find other things to build the tower with. Rosita then spies some oatmeal containers at Hooper's Store - what if they used those to build the tower? "Let's try!"

SCENE 1
cont'd
The two ask Chris if they can use the oatmeal containers on the shelf. Chris says no, but he just happens to have some empty containers, since Bert eats a lot of oatmeal. They immediately start adding to their block tower while singing about it.

SCENE 1
cont'd
Again, Elmo thinks the tower could be even taller still. They spot Cookie Monster on his way to recycle some empty cookie boxes, which they take off his hands. Elmo's dad gives him a 10 minute warning from afar, so they immediately resume building their tower.




SCENE 1
cont'd
Chris is amazed at how tall the tower has gotten, but Elmo still wants to add more height to it. Chris offers them an empty water bottle and an empty paper towel roll, which they add to the tower, and Elmo declares it finished, just in time for lunch. Everyone on Sesame Street comes by to admire the tower.

Insert
I Wonder, What If, Let's Try
Elmo's friends Audrey and Jayden use blocks to build a corral, adding some animal cracker boxes when they run out of blocks.




Muppets
Elmo and the gang introduce the letter of the day, B, with a song and dance.
(First: Episode 4524)

Song
"B is for Blocks"

SCENE 2
Elmo and Rosita build a small parking garage with some wooden blocks. They overhear the foodie truck…




Muppets
Cookie Monster's Foodie Truck
A boy requests a snack shaped like blocks, for his sister. Gonger suggests beet-and-watermelon salad, so they venture over to the beet farm to see how beets are harvested.

Muppets
Elmo and Abby pose as astronauts and sing about finding the number of the day by counting Martians. Today, there are 5.
(First: Episode 5002)

Celebrity
Hailee Steinfeld sings "

I Wonder, What If, Let's Try

."
(First: Episode 5103)

Muppets
Elmo's World: Blocks

SCENE 3
Elmo and Rosita reflect on what they've learned about blocks today. Their tower collapses, and they proceed to build it again.