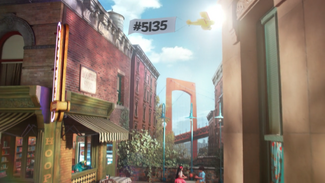 Picture
Segment
Description

COLD OPEN
Elmo and Abby do some exercises, as today's show is all about exercising.




SCENE 1
Chris, Elmo, and Abby introduce the viewer to "Move It Day," which is not the "scram" kind of movement Oscar prefers. Instead, everyone finds ways to move their bodies as the three of them sing about the day. Chris heads off to work, while Grover appears to show Elmo and Abby a new move: the wave and wiggle.

SCENE 1 cont'd
Elmo and Abby come across Cookie Monster, who is munching down cookies instead of moving. He claims he's doing a special exercise for Cookie Monsters: the sit and snack.




SCENE 1 cont'd
Big Bird invites them all to join him in some special birdie exercises, but Cookie Monster declines. Elmo and Abby join Big Bird as they move "Just Like the Birdies Do" and do movements based on different types of birds. As Big Bird goes to Hooper's Store to get a birdseed smoothie, Abby and Elmo check in on Cookie Monster. He claims he's taking a break from cookies...to play video games on his phone. The two then hear some arguing nearby...

SCENE 1 cont'd
Nina tries to settle a dispute between the Two-Headed Monster; one head wants to dance and the other wants to jump. She shows them they can do both by doing "The Jumpin' Dance."
In this airing, some of the dialogue after the song is cut.




SCENE 1 cont'd
They all return to Hooper's, where they find Cookie is feeling tired and low on energy. They tell him he shouldn't sit around eating cookies, he should be exercising! They sing a song that gets him moving around and soon, he's got plenty of energy! Grover appears again to show them another great, Egyptian-like move to get them in shape.

Insert
I Wonder, What If, Let's Try
Elmo rides his trike down the block and hears a song coming on...
(First: Episode 5104)




Muppets
Abby Cadabby leads the gang in a song to introduce the letter of the day - E. (edited)
(First: Episode 4920)

Muppets / Celebrity
Ne-Yo sings "You've Got a Body, So Move It."
(First: Episode 4619)

Muppets
Elmo and Big Bird hear the sounds of the Foodie Truck approaching...
(First: Episode 5104)




Muppets
Cookie Monster's Foodie Truck
After doing some dance practice, a young girl orders hummus with carrot sticks. Cookie Monster prepares everything they need, but he interprets "chickpeas" as an actual chick and pea. Gonger instead takes him to the farm where they get some actual chickpeas and complete the recipe. Afterwards, Cookie gives the "nice" Gonger usually prepares to the chick, whom he's named Chickardo.

Muppets
Elmo and Abby pose as astronauts and sing about finding the number of the day by counting Martians. Today, there are 10.
(First: Episode 5012)

Cartoon
Ten kids shoot ten basketballs.
Artist: Floyd Norman
(First: Episode 5022)

Celebrity
Hailee Steinfeld sings "

I Wonder, What If, Let's Try

."
(First: Episode 5103)

Muppets
Elmo's World: Sports
(First: Episode 5131)

SCENE 2
Elmo and Abby sign off, as Cookie Monster comes through still moving and grooving.