The theater's roof has rotted through, and the workmen have to take it to the shop to fix it. Performing without a roof, the Muppets have to go on despite snow, fog, hail and high winds.
At the end of the show, Statler and Waldorf are shown wearing snow hats and scarves while shivering their bones off from the snow. Waldorf complains that they would get pneumonia, but Statler says that this show always makes them sick.
Songs/Sketches
Notes
Although the Gene Kelly episode was the last show filmed, Signor Baffi's knife act was the very last scene shot for the series on August 22, 1980.[1]
Episode
| Picture | Description |
| --- | --- |
| | Cold Open: Pops greets Gladys at reception and, in a play on her name, says he's always "glad it's night". She forgives him and says she allows one of those kinds of jokes per show. Working above them on a ladder, a Whatnot makes the same joke, prompting Gladys to shake him loose sending him plummeting to the floor. |
| | "The Muppet Show Theme": Gonzo blows his trumpet triumphantly and says he gives autographs after the show. |
| | On stage, Kermit apologizes for the workers who are fixing the leaky roof of The Muppet Theatre, just as one of them is pulled up to the ceiling by a rope. As he announces the guest star and introduces the opening number, he's nearly hit by a bucket of nails. |
| | A trio of Whatnot archaeologists enter an Egyptian tomb singing "Night and Day". Inside, they are greeted by three sarcophagi, who join them in song. The caskets open to reveal three mummies, one of whom is Gonzo wrapped in bandages, and whisper some of the tune, inhaling incense. The nine of them join to finish the song together. |
| | Backstage, a Whatnot worker approaches Kermit holding a large planck of wood that he says is what holds up the roof. Startled, Kermit asks what's holding it up now, just as the worker's foreman comes crashing to the floor, following by debris from the building's structure. |
| | Gladys sings "Friendship Train" on a carboard cutout of a train with three Whatnot engineers, Fozzie, Slim Wilson, some pigs, penguins, The Swedish Chef, a raccoon, Gonzo and some other Whatnots. |
| | Backstage, another Whatnot worker tells Kermit he can ifx the roof, but not here. It has to go into the shop. A crane then pulls up the roof, letting the sunshine in. Gladys emerges from her dressing room and says she heard it's supposed to snow. |
| | Veterinarian's Hospital: Dr. Bob, Nurse Piggy and Nurse Janice attend to a weather man in an operating room with no roof. One of the jokes is followed by a stroke of lightning, to which Dr. Bob addresses the sky and says, "I didn't think it was that bad!" The weather man sings lines from "Stormy Weather", "Raindrops Keep Fallin' on My Head", and "Hail, Hail, the Gang's All Here". |
| | For the UK Spot, a caveman, backed up by prehistoric pigs, sings "Alley Oop". Animal chases around a bear and Butch with a club, but at the end of the sketch, he's pulled off stage by a brontosaurus. |
| | Rowlf and Gladys chat about Fat Momma Jefferson, Rowlf's favorite blues singer (a bassett hound) who sang "I Won't Hang My Head In Shame 'Cause I Step On My Ears When I Do." Gladys says she leans more toward Ma Rainey, Dinah Washington, and Billie Holiday. Rowlf responds by starting to play "God Bless the Child". As Gladys sings the song. they're joined on stage by Fozzie, Scooter, Pops, Lew Zealand, Annie Sue, Beauregard, Janice |
| | When fog rolls in backstage, Kermit calls the last straw and places Scooter in charge while he goes to do something about it. There's no time for Fozzie to do a monologue, but since Signor Baffi's assistant didn't show up, Scooter assigns Fozzie to stand in. |
| | Signor Baffi, it turns out, has no problem with the fog as he is a blind knife-throwing act who aims by the sound of his target's voice. Fozzie panics as the knives start flying across the stage. Kermit yells to cancel the number; Beauregard's reply lures a knife that cuts the rope and drops the curtain. The fog is really rolling in backstage, when a wind kicks up and blows away Kermit's running order for the rest of the show. |
| | For the closing number, Gladys sings "I Heard It Through the Grapevine" with some grapes on a vine, and Zoot on sax. By the end of the number, it's snowing so profusely, that a snow bank builds up on stage around Gladys as she's singing. |
| | Gladys signs off in a winter coat, joined by Kermit, Scooter, The Swedish Chef, Gonzo, Annie Sue, and a pig. |
Cast
Muppets:
Background Muppets:
Performers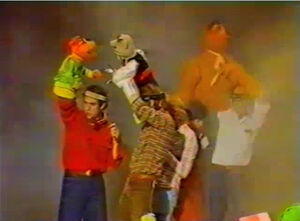 Gallery
Sources
External links
Community content is available under
CC-BY-SA
unless otherwise noted.