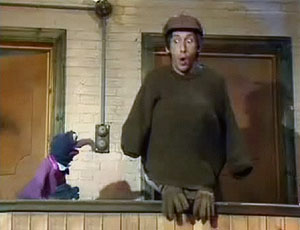 A messenger brings a message from the scheduled guest star -- Benny Brillstein, the Yiddish yodeler. Benny refuses to be on the show, so Kermit asks Chris, the messenger boy, to be the guest. Chris knows a joke, so Kermit introduces him as a comedian.
Chris' bizarre acts include owl impersonation and odd magic tricks -- "Pick a sausage, any sausage." Finally, doing an escape act in his dressing room, Chris locks himself in a wardrobe and can't get out. He has to do his final number, "Hawaiian Cowboy," from within the wardrobe.
Songs/Sketches
Kermit and Robin sing "Friendship" with two whales.
Chris performs his impression of Autumn in Scotland and tries to catch a peanut in his mouth.
A double-decker bus full of dogs sings "Maybe It's Because I'm a Londoner."
Chris introduces his Time Travel Apparatus.
"The Gnu" -- a British Chap and a Gnu
Chris attempts to display he can dramatically burst out of a wardrobe, but gets stuck inside. As he must appear in the closing number to sing "Hawaiian Cowboy," the Muppets are forced to put on a cowboy hat on top of the wardrobe and move it on stage so Chris can sing from inside. However, Chris does manage to free himself in spectacular fashion to finish the song properly.
Quotes
Waldorf: "You know, if you ever think about it, there are these strange pauses in this show when nothing happens on stage."
---
Notes
Chris was the only British writer on The Muppet Show. He was hastily made the guest for this episode after the original guest, Richard Pryor, was unable to make the taping.
The mother whale puppet in the opening number was over 8 feet long; it was the biggest hand puppet ever featured on the show. After the show was taped, the producers donated the whale puppet to the environmental advocacy group Greenpeace as a mascot.
Cast
Muppets: Kermit the Frog, Scooter, Gonzo, Pops, Gnu, Whales, Pigs, Floyd Pepper, Melissa, Mickey Moose, Sam the Eagle, Wolfhound
Background Muppets: Deer, Shark, Penguins, Afghan Hound, Baskerville, Dogs, Goldfish
Performers
Community content is available under
CC-BY-SA
unless otherwise noted.