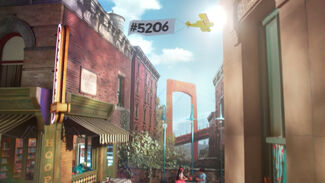 Picture
Segment
Description

COLD OPEN
Elmo tries to set up today's theme of dogs with an uncooperative doggy.




SCENE 1
Leela and Elmo welcome the viewer and meet Brandeis, a talking dog looking for a job. He flaunts his credentials (being a CPA, certified lawyer and eye doctor), but the only help Leela needs is in laundry folding. Despite the low-level position, he accepts and tries to fold the laundry but makes a bigger mess instead. Leela has no choice but to fire him, and Elmo helps him find a different job.

SCENE 1 cont'd
They arrive in Hooper's Store, and Brandeis offers Chris some car insurance and pest control (fleas especially), but Chris only needs help sweeping. Brandeis tries to grab hold of the broom, but it slips from his paws. He carries it in his mouth, resulting in a large mess. Brandeis is let go again.




SCENE 1 cont'd
Outside, Brandeis is upset that he'll never find a job. Elmo notices Gina with a dog nearby and they go inspect. Gina explains that the dog, Hercules, is a service dog whom Gina is training to help people. She directs Elmo and Brandeis to observe two other service dogs in training, Barry and Phoebe. Barry's trainer teaches him to guide blind street resident Harold, while Phoebe learns to assist a young girl in a wheelchair with opening and closing a drawer in a chest. Brandeis thinks it's the kind of job he could do and undergoes several weeks of training with Gina ("I Want to Be a Service Dog").




SCENE 1 cont'd
After his training, Brandeis is now a certified service dog. Gina bestows his official service dog vest. Elmo learns that when wearing the vest, the dogs should not be petted so they can concentrate, but they can play when they're off duty. Today is also the day Brandeis meets the person he'll be helping, and he's very nervous. His special friend, Liliana (who is in a wheelchair), shares the same fears about meeting Brandeis, but her dad (George Faya)[1] reassures her in the same way Gina heartened Brandeis a moment earlier. When they meet face to face, Brandeis picks up her dropped lunchbag, and their friendship begins to blossom. He takes her to Hooper's for some milk, and Elmo notes he's going to make a great service dog.

Insert
I Wonder, What If, Let's Try
Elmo rides his trike down the block and hears a song coming on...
(First: Episode 5104)




Muppets
Abby Cadabby leads the gang in a song to introduce the letter of the day - D.
(First: Episode 4703)

Muppets
Elmo sings about being "Furry Friends Forever" with Tango.

Muppets
Elmo and Big Bird hear the sounds of the Foodie Truck approaching...
(First: Episode 5104)




Muppets
Cookie Monster's Foodie Truck
A young girl is having a birthday party for her dog and orders vanilla popsicles, a doggy-appropriate treat. Gonger chides Cookie Monster when they find they're out of vanilla beans, until Cookie reminds Gonger that he actually used up all the vanilla to make pudding. Gonger apologizes and they drive off to the vanilla farm for more.
(First: Episode 4919)

Muppets
Cookie Monster and friends sing as they wait for the number of the day, which is how many cookies are being baked for him (to eat). Today's number is 5.
(First: Episode 4719)




Cartoon
Elmo & Tango's Mysterious Mysteries
In the dog park, Abby's wand goes missing during a game of fetch. Elmo and Tango solve the mystery by discovering their dog friend Dax accidentally buried it like a stick.

SCENE 2
Elmo and Brandeis sign off.
Notes
John Kennedy performs Brandeis in the closing scene, as well as the dog in the cold open.
Sources