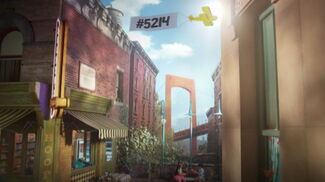 Picture
Segment
Description

COLD OPEN
Elmo and Snuffy introduce today's theme of dancing by doing a shake dance. Snuffy ends up knocking Elmo over with his snuffle.
(First: Episode 4708)

SCENE 1
Prairie Dawn and her friend Gabrielle are making up a new dance together. When Prairie proposes a move where they whip their hair back and forth, Gabrielle notices her hair can't move the way Prairie's does. They run off to find Nina, who might be able to fix the problem.

SCENE 1 cont'd
Nina tries doing Prairie's hair in poofs like Gabrielle's but finds her hair can't work like that. They think their dance will be ruined, but Nina encourages them to keep both hair movements in the dance.

SCENE 1 cont'd
The girls continue practicing, attracting Elmo's attention. He finds he doesn't have hair but tries to remedy that with a mop-top wig. It immediately flies off his head. The girls tell Elmo he can still dance, just allowing his fur to move as it can.

SCENE 1 cont'd
Big Bird sees them all practicing and wonders if he can join, even though he doesn't have hair or fur. He shows off how he can shake his tail feathers, which makes a perfect addition to their dance. Prairie jumps at his suggestion to put on a show for the neighborhood, and Nina asks to join as well.

SCENE 1 cont'd
In front of a crowd of kids, monsters and more, the gang performs a 60s-style song and dance about how much they love their "Hair, Feathers and Fur."

Insert
I Wonder, What If, Let's Try
Elmo rides his trike down the block and hears a song coming on...
(First: Episode 5104)




Muppets
Abby Cadabby leads the gang in a song to introduce the letter of the day - D.
(First: Episode 4703)

Muppets / Celebrity
Ne-Yo sings "You've Got a Body, So Move It."
(First: Episode 4619)

Muppets
Elmo and Big Bird segue to "Abby's Amazing Adventures..."
(First: Episode 5107)

Cartoon
Abby's Amazing Adventures
Abby and Rudy are taken to a talent show, where Abby choreographs a dance for the two to perform.
(First: Episode 4904)

Muppets
Elmo and Abby pose as astronauts and sing about finding the number of the day by counting Martians. Today, there are 2.
(First: Episode 5013)

Film
Two girls count to 2 while dancing.
(First: Episode 4818)

Celebrity
Hailee Steinfeld sings "

I Wonder, What If, Let's Try

."
(First: Episode 5103)




Cartoon
Elmo & Tango's Mysterious Mysteries
Elmo and Tango solve the mystery of who owns a shoe they found.

SCENE 2
Still in costume from their show, Prairie, Gabrielle, Elmo, and Big Bird create another dance to bid goodbye to the viewer.
Notes