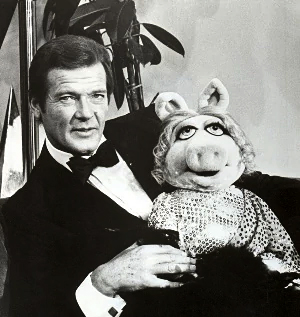 Kermit calls the Secret Service to hire real spies for Roger's closing number. (They're listed in the Yellow Pages.) However, Roger wants to do a cute, cuddly version of "Talk to the Animals". The spies, anxious for a chance to rub out James Bond, pose as fluffy animals to infiltrate the number.
Songs/Sketches
Notes
The "In the Navy" number alone took a day and a half to shoot.
A segment of "Slow Boat to China" can be seen being performed on Of Muppets and Men.
Edits
Cast
Muppets:
Kermit the Frog, Miss Piggy, Fozzie Bear, Scooter, Rowlf the Dog, Statler and Waldorf, Swedish Chef, Annie Sue Pig, Lew Zealand, Beauregard, Janice, Link Hogthrob, Louis Kazagger, The Newsman, Boo Mortmorkinson, Frackles, Butch, Gnu, Quongo the Wild Mountain Gorilla, Baskerville, Afghan Hound, Mackerel, Rabbit, Deer, Squirrels, Pigs
Background Muppets:
Performers
Community content is available under
CC-BY-SA
unless otherwise noted.