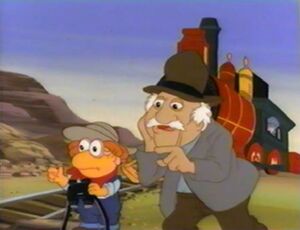 Uncle Statler, Uncle Waldorf, and the Babies set up a toy train and train tracks to reenact the joining of the transcontinental railroad across the United States of America.
Songs
References
When yelling for the buffalo to clear Waldorf's team's path, Baby Gonzo references Young MC's "Bust a Move," having heard the song on MTV.
Characters
Muppet Babies: Baby Kermit, Baby Piggy, Baby Fozzie, Baby Gonzo, Baby Rowlf, Baby Scooter, Baby Skeeter, Baby Animal, Baby Bean Bunny
Supporting Characters: Nanny, Uncle Statler and Uncle Waldorf, Bosko the Snowman
Edits
When this episode was released on the Explore With Us video, the ending scene with Baby Animal saying "Go bye-bye" was cut.