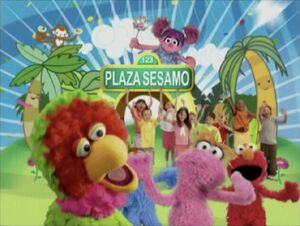 Picture
Segment
Description

COLD OPEN
Lola introduces the word of the day - "correr" (to run).

SCENE
Modesto Microfono interviews Fernando Platas on exercise.

Animation
When a boy runs, his heart runs too.
(First: Episodio 937)

Muppets
Abelardo introduces the letter S, for "sol" (sun).
(First: Episodio 936)

Animation
Airplanes carve the capital and lowercase S.
(EKA: Episodio 739)

Song
"Jump" (soul)
(EKA: Episodio 736)

Cartoon
A child's heart becomes happy when they play the xylophone.
(First: Episodio 938)

SCENE
Abelardo, Lola, Pancho, Manuel and Daniela take a hike in the woods, taking in the sights of nature.

Film
A circle-headed being finds circles around the city.
(First: Episodio 996)

Muppets
Big Bird wants to take a rest from playing tag with Elmo, but Elmo wants to keep playing. Through song, Big Bird emphasizes the importance of resting to Elmo. As they rest, they watch some kids ride on their scooters, Zoe dancing, and Telly bouncing on his pogo stick. When the song is over, Big Bird is ready to continue the game of tag with Elmo.

Film
Kids go on a nature hike.

Muppets
Pancho introduces 8 trumpets.

Animation
Counting to 8
(EKA: Episodio 731)

Muppets
The Number of the Day: 8
Eight bats show up when the Count reveals that 8 is the number of the day.
(First: Episodio 876)

Film
Kid jungle explorers sight a wild letter S.
(EKA: Episodio 813)

Muppets / Film
Pancho Visión
Pancho experiences a blackout while introducing a film of a girl at her dance class.

Cartoon / Film
Liezt of the "Festival de Las Organos" interviews a heart.

Muppets
Abelardo and friends sing and count while working out.