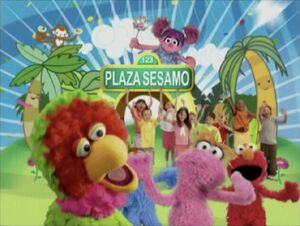 Picture
Segment
Description

COLD OPEN
Lola, and her shadow, present the word of the day - "sombra" (shadow).

SCENE
Pancho stars as a king in Federico Pelini's newest movie, but Pelini stands in front of the light, casting a shadow. A Multimonstruo also does some shadow puppets. Pelini fixes the problem by changing the setting to a beach, using the sun as the light. The monster provides Pancho with an umbrella when he learns he'll have to suffer through 80 more takes in the heat.

Cartoon
Noodles and Nedd play shadow games indoors with a flashlight, and outdoors.
(EKA: Episodio 887)

Muppets
Lola presents the letter N, for "nariz" (nose).

Cartoon
Shadows of kids play basketball.
(First: Episodio 927)

Film
The floating kids make an N.
(EKA: Episodio 807)

Animation
Traction Jackson sings "Me and My Chair".
(First: Episodio 1001)

SCENE
Abelardo, Daniela and the kids sing "Salvemos Nuestro Mundo."

Animation
Faces and other features are added to tin cans before becoming a mobile.
(First: Episodio 1007)

Film
Two Malaysian bows draw figures on paper, carve them into wood and make shadow puppets.

Animation
20 bears in 20 chairs.
(EKA: Episodio 818)

Muppets / Film
Pancho Vision
While Pancho heads to the little monster's room, he rolls today's film:
Kids observe nature as they hike to see a volcano.
Film only: (EKA: Episodio 917)

Film
A big N emerges, Jaws-like, in a swimming pool.
(EKA: Episodio 1005)

Muppets
The Number of the Day: The Count counts and sings up to 20, accompanied by the Countess and their band of musicians.
(First: Episodio 1026)

Cartoon
Madlenka plays her violin, which sparks her neighbors' memories of when they played an instrument.
(First: Episodio 1030)

Muppets
Pancho displays 20 flowers.

Cartoon
The jungle creatures dance and form a 20.
Artist: Karen Aqua
(EKA: Episodio 1005)

Insert
The gang sings about the Earth.
Notes
In the online release of "Salvemos Nuestro Mundo," Abelardo is super-emposed over an animation of the Earth. In the aired episode, the bluescreen background remains unchanged.