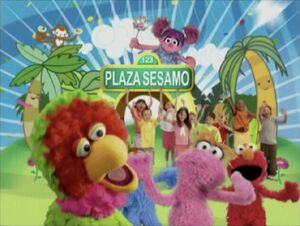 Picture
Segment
Description

COLD OPEN
Abelardo, Manuel and Daniela make pictures of the word of the day - "circulo" (circle).

SCENE
At La Abuela's restaurant, a Multimonstruo asks the waiter (Adal Ramones) for a circle to eat. He brings him various circles, none of which are big enough for his appetite. The monster settles on eating the round table.

Cartoon
Circles become the moon and eyes of an owl.

Muppets
Abelardo shows 14 spiders.

Film
A circle-headed being finds circles around the city.
(First: Episodio 996)

Muppets
Worms in Space make the number 14.
(First: Episodio 1013)

Cartoon
The colors of the rainbow.
(EKA: Episodio 797)

SCENE
Lola and Daniela meet a Multimuppet boy having trouble writing a poem about the sun. They bring him a book that gives him some more adjectives.

Film
"¿Qué harías con papel?" - A girl uses paper to make beads for a necklace.
(First: Episodio 1012)

Muppets
The Number of the Day: The Count counts and sings up to 14, accompanied by the Countess and their band of musicians.
(First: Episodio 885)




Video
Gymnasts form a C, for Carlos.
(EKA: Episodio 821)

Cartoon
A tree experiences the various weather changes during the seasons.
(EKA: Episodio 796)

Film
A girl and her family partake in many healthy activities.
(First: Episodio 937)

Muppets
Pancho presents the letter C, for "casa" (house).

Cartoon
A fan reveals the letter C.
(EKA: Episodio 821)

Muppets / Film
Pancho Visión
Pancho rolls a film of kids learning about vintage coins.

Song
"The Turtle Song"
(EKA: Episodio 941)

Cartoon
How Andy Fritz Ate the Sun.
Artist: ArtistMike
(EKA: Episodio 957)

Insert
Lola and friends sing a song about the sun to help a Multimuppet boy's ailing plant.