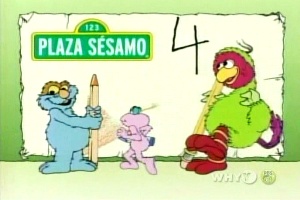 Picture
Segment
Description

SCENE
Señor Lechuga is confused when some kids come into his shop order a "banan" and a "banana," not realizing they mean a platino.

Cartoon
"Los Elefantes": A song about adding elephants.
Artist: Oscar González Loyo

Film
A boy plays with his top.

Muppets
Ernie & Bert — Ernie answers the telephone. Bert overhears the conversation, which involves a baseball game, a rainy day, and a gorilla stealing a baloney sandwich. When Bert asks who just called, Ernie says it was a wrong number.

Cartoon
An alien crashes on Earth and uses a "telefono" (telephone) to get help.
Artist: Oscar Gonzalez Loyo

Song
"It's All Right to Cry"

Cartoon
Three kids use lightbulbs to form a number 3.

SCENE
Abelardo comes across a crying shepherd, who has lost his most precious sheep. They search all of the plaza and once they find him, they all go to get ice cream.

Film
What sound does a sheep make?

Cartoon
A face is squeezed into a rectangle and square.

Film
On stage, a girl tells her crowd a riddle about the stars.

Muppets
Elmo explains the importance of sleep, but the audience won't stop applauding and let him sleep afterwards.

Song
"Imagination Landscape"

Film
A boy talks about his family's stay in the woods.

Cartoon
Fish form capital and lowercase T's.

SCENE
While having a sleepover, Lola wakes up Daniela to point out the different sounds in the night. Daniela finally starts to appreciate the sounds, just as Lola falls fast asleep.

Closing
The trio displays the sponsors with a machine.
Community content is available under
CC-BY-SA
unless otherwise noted.