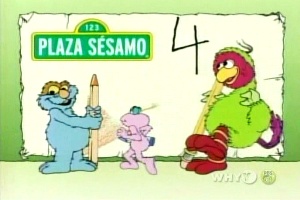 Picture
Segment
Description

SCENE
La Abuela tries to take the order of her Multimonstruo customer, but she needs a new sheet of paper. Super Papel arrives and shows off his recycling machine. They use her old paper and the machine makes it brand new. La Abuela is so impressed, she goes to find more old paper, ignoring her hungry customer.

Cartoon
It takes two kids two blow up a number 2.

Song
"Yo Quiero Ser": A boy sings about being a cook.

Animation
H/h (space paint)

Film
Various situations of before and after, to a hip-hop beat.

Cartoon
A "hada" (fairy) finds her wand under a rock.
Artist: Oscar Gonzalez Loyo

Muppets
Cookie Monster goes to the carnival and plays the "test your strength" game. Unbeknownst to him, the carnival barker rigged the game so nobody can win -- until Cookie finds out what the prize is.

Song
"When You Grow Up"

Film
On a stage, a girl asks some kids what will move her hat without her touching it. The answer turns out to be the wind.

SCENE
Verduberto and La Abuela prepare a sandwich while singing a version of "Funiculì, Funiculà." The song eventually picks up in tempo as the sandwich is finished and La Abuela passes out on top of it.

Animation
A Navajo blanket is formed as tribal music plays.

Muppets
Bert tells Ernie not to eat cookies in bed, because he might get crumbs in the bed. Ernie decides to eat cookies in Bert's bed instead.

Muppets
Abelardo, Lola and Pancho sing "Brinca la Tablita" with the kids.

Cartoon
Lightning bugs make shapes.
Artist: Fred Garbers

Film
Two boys groom their dog, but when they get clean, he makes them dirty again.

Cartoon
The Ringmaster charms two snakes with his saxophone.
Artist: Jeff Hale




SCENE
A monster has laid out all his triangular items in the plaza, hoping he'll win a special prize to the Great Pyramids. Pancho, local triangle expert and judge, is impressed the monster's triangle collection, which features a triangular sunglasses, notebook and tie. However, Pancho instead fawns over Verduberto's triangular, onion sandwich.

Closing
The trio displays the sponsors with a machine.