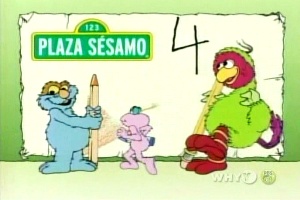 Picture
Segment
Description




SCENE
There's a party on Plaza Sésamo today and Neftalí attempting to bring a large package (sent by Pancho) to it. He momentarily stops to help Abelardo, Lola and La Abuela carry items to the party. They repay the favor by helping move the box to the party. They open it up and find a mariachi band inside.

Cartoon
El Muñeco tells a riddle about a rabbit.
Artist: Oscar González Loyo

Muppets
Bert asks who Ernie is decorating the room for. It turns out to be the viewer at home.

Cartoon
A tortoise encourages a lazy hare to exercise.

Film
A group of kids play "El Patio de Mi Casa."
This segment is replayed during the credits.

Cartoon
A "charro" (horseman) shows off his lasso tricks, then ropes the word.
Artist: Oscar González Loyo

Film
Elmo (in voice-over) points out two girls are away from each other on a bench and they then become next to each other.

Animation
Wooden shapes group themselves by color, then regroup by shape, then assemble themselves into a rocket ship.




SCENE
Abelardo, Lola and Pancho visit Don Boni's shop to get some items for their spaceship. Don Boni eventually assumes they're merely using their imagination...until he witness them take off into the sky.

Animation
A cylinder floats in space.

Film
Kids in Jamaica play bongo drums.

Animation
Clown Honking #10

Muppets
The Mostly Monster Festival Choral Society presents "The Alphabet, Theme and Variations," by Mozart.

Cartoon
A child bounces a soccer ball 10 times.

Film
A boy talks about his soccer team.

Cartoon
Beginning / middle / end: a beatnik follows a trombonist's note through a long horn.
Artist: Frank Gresham

SCENE
Pablo is directing a video of "Little Red Riding Hood" starring Lola as the titular character, Pancho as the Big Bad Wolf and a Multimuppet, who doesn't know if he comes in during the beginning, middle or end of the piece.

Closing
The trio displays the sponsors with a machine.