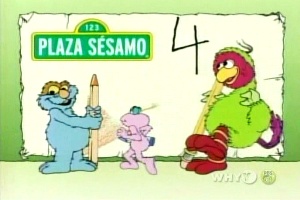 Picture
Segment
Description

SCENE
Abelardo shows Maria his special pencil, but isn't sure what to do with it. He asks some questions about and concludes he wants to preserve it the way it is, deciding not to use it at all.

Cartoon
F / f (space paint)

Song
"Jump" (soul)

Cartoon
A family goes over their camping checklist before they leave for the woods.

Muppets
Ernie has a licorice whip that he offers to share with Bert. He divides the licorice in half with a pair of scissors, but then discovers that Bert's half is longer than his. He cuts off a little bit of Bert's half, and eats it. Then he discovers that his own half is longer than Bert's, and that's not fair, so he cuts a bit off of his own, and eats it. Ernie goes back and forth, shaving off more and more, until the licorice whip is gone.

Cartoon
The importance of seeds

Film
A girl and her florist mother visit a greenhouse.

Cartoon
A "flor" (flower) grows and shows off her pedals.
Artist: Oscar González Loyo

Cast
The cast sings about their "Dia de Campo."
This segment is replayed during the credits.

Animation
A square floats in space.

Film
A family goes on a picnic.

Cartoon
The number 13 is seen as a birdhouse, in a tree, and in the sky.
Artist: Joey Ahlbum

Film
Korean girls do a spring dance.

Muppets
In parody of The Brady Bunch theme, Telly Monster goes to the refrigerator to make himself a healthy "Telly's Lunch."

Song
A song describes a boy's attempts to play with his toy.

Cartoon
Number creatures #13

SCENE
Jose Mirón helps Manuel find Abelardo, though he claims the various kids he finds as Abelardo first. Jose gets tired of looking and leaves, just as Abelardo shows up.

Closing
The trio displays the sponsors with a machine.