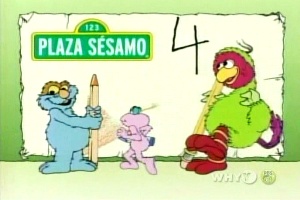 Picture
Segment
Description

SCENE
Neftalí performs his magic act: he pulls a banana from his hat, then a smaller one and finally, a smallest one. His Multimonstruo assistant does a trick of his own: he takes the largest banana and makes it smaller, then makes it disappear (all by eating it).

Animation
A big paper clip and a small paper clip can hold papers together, and so can a small staple, with the help of its "mommy."

Muppets
Ernie can't sleep, so Bert tells him to count sheep. Ernie tries to count sheep, but it's dull -- so he starts counting fire engines. The noise from the imaginary fire engine wakes Bert up. Bert says that Ernie's waking up the whole neighborhood, and tells him to count something quieter. Ernie counts balloons -- but the balloon gets bigger and bigger, finally bursting with a huge explosion that wakes Bert up again.

Song
"Zero Song": A female voiceover sings about the food that keeps being taken away to make 0.
Arist: Jane Aaron

Film
Neighborhood kids play hide-and-seek.

Cartoon
A panda rolls around, accidentally shifting his colors up.
Artist: Oscar González Loyo

Cast
Everyone from the plaza plays "La Rueda de San Miguel."
This segment is replayed during the credits.

Animation
Counting to 10 (Chinese imagery)

Film
Chinese kids practice tricks at an acrobat school.

Cartoon
A piano plays itself.
Artist: Oscar González Loyo

Film
Three boys take their pictures in a photo booth.

Animation
A clay-animated man uses a palette and a paintbrush to paint the letter P.

Muppets
An Anything Muppet band performs "Guess What."
Taken from Sesame Park

Cartoon
A photographer shows off his first picture of cows, his next picture of ducks, and his last picture of a pig.




SCENE
A monster visits Vincente's cart for some ears. None of the animal-esque ears suit the monster, however. The monster then spots a pair he does like - Vincente's!

Closing
The trio displays the sponsors with a machine.
Community content is available under
CC-BY-SA
unless otherwise noted.