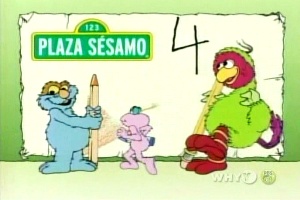 Picture
Segment
Description

SCENE
Pancho demonstrates his "great strength" by lifting his triangular barbel 10 times. His child assistant removes it from the stage with much more ease than him.

Cartoon
El Muñeco describes a jumping animal (a grasshopper).
Artist: Oscar González Loyo

Muppets
"Near and Far"

Animation
Airplanes carve the capital and lowercase S.

Film
A girl describes the her life on a ranch.

Cartoon
A rooster tells a boy how eggs come from a chicken to the store.

Film
What sound does a rooster make?

Cartoon
A "sapo" (toad) hops from rock to rock, then falls in the water.
Artist: Oscar González Loyo

SCENE
Vincente sings "Soy Vicente," describing his skills as a salesman.

Animation
Counting 1-10 (Indian imagery)

Film
An Indian boy narrates how Chapati bread is made.

Cartoon
A chicken sings "It Ain't Heavy, It's My Feather."

Muppets
The Count has built a rocket with the help of Dr. Reinbrain and plans to launch it from inside his castle. The two count down from the computer console, but the rocket doesn't take off. Indeed, Count never intended for lift-off; he plans on counting down again and again.

Film
A song about city and country noises.
This segment is replayed during the credits.

Cartoon
S for Sol (sun)

SCENE
Modesto Microfono interviews Irma, who rhymes everything she and others say. He ends up trampled by her autograph-seeking fans.

Closing
The trio displays the sponsors with a machine.
Community content is available under
CC-BY-SA
unless otherwise noted.