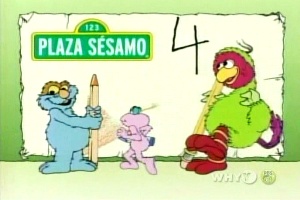 Picture
Segment
Description

SCENE
Concinando con Verduberto
Verduberto and Carlo are joined by Elefancio as they prepare a birthday cake. The recipe requires two of each ingredients, but Verduberto is too caught up in himself (and Carlo can't communicate) that he doesn't notice Elefancio eating all the ingredients.

Animation
D / d (space paint)

Song
"The Pasta Song"

Cartoon
In a circus setting, a girl becomes excited about getting her first loose tooth.
Artist: Steven Fonti

Muppets
When Frazzle is scared of going to the dentist, his mother tries to comfort him by telling him what a good time he will have. In the end, the dentist turns out to be scared of Frazzle.

Animation
A rectangle floats in space.

Film
A boy and his father get their pictures taken for their sports club membership cards.

Cartoon
Some yucky little teeth sing praise of "Mr. Toothbrush," who brushes them.
Artist: ArtistMike

SCENE
Pancho hosts the game show "Cepillarse Los Dientes" (Brush Your Teeth), where he asks some kids questions about brushing one's teeth. He gets to an unexpected Multimonstruo contestant, whom he asks why he brushes his teeth. The monster replies he loves the music; when he brushes, it greats a "cha-cha." Pancho awards him the prize - a giant toothbrush with giant toothpaste.

Cartoon
D for Dinosaurio (Dinosaur)

Film
The kids have fun playing "Doña Blanca" with pillars made of chewing gum and chocolate.
This segment is replayed during the credits.

Cartoon
Two blobs form a number 2.

Song
"The First Time" - Children try various activities (riding tricycles, tying shoes, etc.) and progressively improve.

Cartoon
African quilt pattern #3

Muppets
Two creatures watch a girl dance while balancing two glasses with liquid inside.

Song
"Lavarse los Dientes"

SCENE
Pancho starts sorting all of his items out on the plaza. After sorting the boxes, he starts sorting his onions and triangles. He accidentally knocks his pile over, putting him back at square one.

Closing
The trio displays the sponsors with a machine.