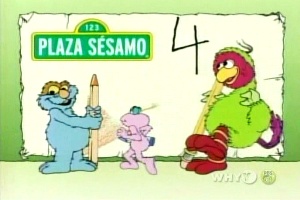 Picture
Segment
Description

SCENE
La Abuela is preparing a cake, but doesn't have any sugar. Her Multimonstruo aid fetches some cotton balls, then is told sugar is white and sweet. He returns with a bunny rabbit. He once again leaves and finally gets it right, but trips and spills it all over La Abuela.

Cartoon
Four painters

Song
"I'm an Aquarium Fish"

Muppets
It's a sunny day at the beach, and Bert remembered to bring everything. Ernie, however, only brought an umbrella in case it rains... which it does.

Cartoon
A girl and her dog go play in the "lluvia" (rain).
Artist: Oscar González Loyo

Film
A visit to an aquarium.

Cartoon
4 babies crying, drinking, playing, sleeping

SCENE
Today is Pablo and Susana's anniversary and Pablo has a surprise: a marimba band all the way from Chapas, Mexico. Their playing attracts nearly everyone on the plaza. Pablo worries the surprise will be ruined, but Susana loves his gift and everyone dances to their music.

Cartoon
Mastro Batuta introduces the marimba.
Artist: Oscar González Loyo

Film
A boy learns the family tradition of fishing.

Muppets
Elmo and Telly show "forward" and "backward."

Song
"Salt, My Salt"

Film
Your feet can walk both forward and backward.

SCENE
Abelardo practices turning on his rollerskates, but bumps into Juan, Neftalí and Pancho. Pancho flees the scene when he sees Abelardo returning, but at this point, he's practiced so much, he doesn't collide with the others.

Closing
The trio displays the sponsors with a machine.
Community content is available under
CC-BY-SA
unless otherwise noted.