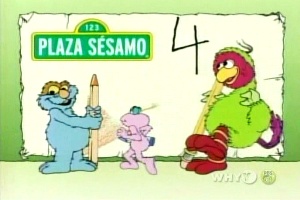 Picture
Segment
Description

SCENE
Lola gathers the kids for an exercise session. She eventually takes off her tennis shoes for a rest and witnesses them running away on their own.

Cartoon
A group of rabbits jump rope, later joined by a kangaroo.

Muppets
Ernie gets Bert to participate in his favorite radio exercise program.

Animation
Planet E / e

Song
"Say Cheese"

Cartoon
A girl's extended family gets their photos taken.

Cast
The entire plaza gang visits "El Circo."
This segment is replayed during the credits.

Cartoon
E for Elefante

Muppets
The Count introduces the number of the day - 17, and thinks Oscar can help demonstrate it. Oscar, of course, says no. The Count begins prodding Oscar more and more so he can count 17 "no"s.

Taken from episode 3489 of Sesame Street.

Muppets
Abelardo, Pancho and Lola sing "Pim Pon."

Cartoon
Number creatures #17

Film
A mother makes a dance outfit for her daughter.

Cartoon
A woman dances to the Son Jarocho.




SCENE
Abelardo and Daniela make up a story about a flower, who wants everyone to see how beautiful her pedals look when the wind blows them. A friendly bee provides some breeze, ending their story, but the flower interrupts the narrators, insisting on more wind. So, Maria and Juan fan her, but it still isn't enough. The bee returns with a fan, which blows the flower away.

Closing
The trio displays the sponsors with a machine.