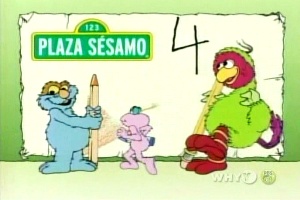 Picture
Segment
Description

SCENE
Pancho and Lola demonstrate up and down while scratching each others backs.

Animation
A cone floats in space.

Song
"You Can Get Right Up": a song about getting active to cheer up.

Animation
A clay man hikes up a letter M.

Muppets
Katie helps Basil tie his shoes.
Taken from Sesame Park.

Film
On a stage, a girl tells a riddle about shoes to her kid audience.

Animation
Counting up to 11 (African masks)

Muppets
Abelardo, Pancho and Lola lead some kids in a musical game ("Juan Pirulero") where they pretend to play various instruments.

Muppets
Barón Púrpura claims his plane flies like a bird. It even lands in a tree like one.

Cartoon
Buttons ride a rollercoaster "up and down."

Film
A boy finds a girl reading and declines her invitation to read with her. Suddenly, all the beings from her book appear behind them and she marches off with them, leaving the boy dumbfounded.

Cartoon
Baby turtles head to the "mar" (sea).
Artist: Oscar González Loyo

Muppets
Herry Monster and a girl sing "A Song for Two."

Film
A boy makes his own camera to take pictures with.

Cartoon
"In My Book"

SCENE
Pablo teaches Abelardo how to write a book.

Closing
The trio displays the sponsors with a machine.
Community content is available under
CC-BY-SA
unless otherwise noted.