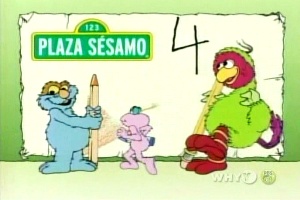 Picture
Segment
Description

SCENE
Abelardo and Daniela witness Barón Púrpura flying by in what Abelardo calls "un avión," but Daniela says it's "un aeroplano." Pablo tells them both words refer to an airplane.

Cartoon
A photographic couple ballroom-dances on, in and under a plane.
Artist: Fred Garbers

Film
A boy's grandfather helps him make an airplane out of seeds.

Animation
Airplanes carve the capital and lowercase A.

Muppets
Katie and her friend, Claudia, sing about "Pretending with a Friend."
Taken from Sesame Park

Cartoon
A bass player counts to 6.

Film
The kids play "Amo a To."
This segment is replayed during the credits.

Animation
Arrows give a presentation of the human body.

SCENE
Lola introduces "El Gran Teatro de las Manos," where a pair of hands teach another, dirtier pair on to wash.

Cartoon
A squirrel heads for her "arbol", but finds it doesn't exist. She asks the animator to draw her one.
Artist: Oscar González Loyo

Song
"Yo Quiero Ser": A girl sings about being an airplane pilot.

Muppets
Ernie comes home to a sleeping Bert and tries to think of things to do that won't wake him up. He can't watch TV, and he can't play with his ball. Bored, he decides to take a nap too -- but then he starts to snore. This awakens Bert, who wonders out loud where the noise is coming from, in the process arousing Ernie, who gets mad at being woken up.

Muppets
A Multimuppet circus janitor sings about the importance of sleep after a long day's work.

Animation
"Six Circus Balls"
Artist: Jane Aaron

SCENE
Abelardo and company sing "Somos Iguales Pero Diferentes" while showing how different people use rope.

Closing
The trio displays the sponsors with a machine.