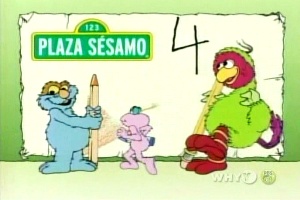 Picture
Segment
Description

SCENE
Pancho has a sore throat and communicates to the plaza residents using notes. However, as Maria tries making conversation with him, he can't keep up writing answers.

Animation
Clown Honking #12

Muppets
Abelardo, Lola, Pancho and the kids sing "Don Piruli."
This segment is replayed during the credits.

Animation
R / r (space paint)

Muppets
Kingston Livingston III sings about his birthday party, but all of his friends are outside the house, while the party is inside.

Animation
A cube floats in space.

Film
A girl gives a tour of her family's apartment.

Cartoon
A man dances to rap music.

SCENE
Abelardo comes across a lamp and unleashes the genie from within. He wishes for a big kite, then a bigger kite and finally, the biggest kite of all, which drags him away when a big wind blows.

Cartoon
Twelve leaves are eaten by twelve caterpillars, who become twelve butterflies.

Song
"I'm the Big One Now"

Cartoon
Can you see the car, frog and bird in the picture?
Muppets
"Home to Me"

Cartoon
Doug the Monster learns the right way to cross the street.

Film
A boy helps his younger brother learn to play "Las Mañanitas."

Cartoon
R for Rana (frog)

SCENE
Pancho tries inviting Antonio on a picnic, but Antonio points out all the signs that a rainstorm is coming. Pancho isn't deterred; he loves picnics in the rain!

Closing
The trio displays the sponsors with a machine.
Community content is available under
CC-BY-SA
unless otherwise noted.