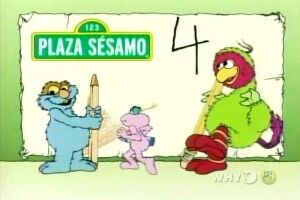 Picture
Segment
Description

SCENE
In front of an audience, a Multimonstruo demonstrates subtraction using 3 apples (which he eats as they're subtracted). For an encore, he eats another plate of apples.

Cartoon
A man announces the vowels.

Muppets
Abelardo, Lola and Pancho sing "Naranja Dulce."
This segment is replayed during the credits.

Cartoon
A girl talks about her skin.
Artist: Bruce Cayard

Muppets
An Anything Muppet girl sings "No One Like Me."
Taken from Sesame Park

Cartoon
An "unicorno" (unicorn) plays with a balloon...until it pops on his horn.
Artist: Oscar González Loyo

Film
Elmo (in voice-over) watches as kids demonstrate through and under.

Cartoon
Ghosts moan "Uuuuuuuuuuu."

SCENE
A monster is sad because all monsters have stories about themselves, except him. A Multimuppet girl tries coming up with one for him, but he doesn't like any of her ideas. He finally enjoys the story of a boy who turns back into a monster from a kiss.

Cartoon
A man dances to rock music.

Song
"(The Name of the Place is) The Laundromat"

Cartoon
Agui Aguillita wants you to remember to take care of plants by giving them water.

Muppets
Ernie sings "Quiet Time Song" while sitting under an apple tree, and is joined by a squirrel, a bird, a hornet's nest, a cat, and Gladys the Cow.

Animation
Two apples balance on a block seesaw.

Muppets
Abelardo, Lola and some kids find seeds decide to wash them and plant them. They then sing "Reforastación."

Film
A boy, girl and basketball player illustrate big, bigger and biggest. A pine tree behind them drops some needles down to remind them who's actually the biggest.

Cartoon
A boy counts down to 0 as he eats his soup.

SCENE
A tour group visits Plaza Sésamo and a monster, who can't speak the local language, communicates to Gertrudis he wants a photo of them together. The tour guide snaps a photo as the rest of the group shows up to be in the snapshot.

Closing
The trio displays the sponsors with a machine.
Community content is available under
CC-BY-SA
unless otherwise noted.