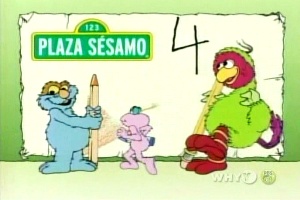 Picture
Segment
Description

SCENE
Carmen and Romania meet the Duke of Ds, who uses his spyglass to spot D words (which he claims are letter Ds) around the plaza.

Animation
D / d (space paint)

Muppets
Grover and Herry explain the difference between "here and there" to a young monster.

Cartoon
Seven kids build a 7.

Song
"This is How We Take a Bath"

Cartoon
A snake slithers through the "desierto".
Artist: Oscar Gonzalez Loyo

Film
Two girls wander the desert.

Cartoon
Two cartoon cacti sing "Here We Are."

SCENE
La Abuela, Abelardo, Lola and Pancho have prepared several glasses of different types of juices for some runners who will be passing by shortly. The young ones want to drink the juice now, but la Abuela encourages them to wait for the runners. The race passes by and the kids drink all the juice...except for Pancho's onion juice (which only he seems excited about).

Cartoon
A woman dances to bolero music.

Muppets
Zoe decides she will get a pet squirrel, so she stops one who is looking for nuts in the park. She tells it to sit, and it says it doesn't do tricks. She tells it that it's her pet now, and it can come live with her in her apartment. It says it lives in the park, and would be sad living in an apartment. Disappointed, Zoe realizes that she will have to find a different pet, so she'll just give her bag of peanuts to someone else. As she is leaving, the squirrel tells her to wait—it will do anything for the peanuts—sit, roll over, beg—if she'd just come back!
Taken from episode 3505 of Sesame Street
(EKA: Episodio 738)

Cartoon
Millie and Molly argue over whether to get a pet cat or a dog, so their mom gets them a turtle instead.

Muppets
Abelardo, Pancho and Lola sing "Pim Pon."
(EKA: Episodio 742)
This segment is replayed during the credits.

Song
"We're All Growin'"

Cartoon
The Ringmaster introduces seven swimming seals.
Artist: Jeff Hale

SCENE
Modesto Microfono reports from the plaza about pets. He meet's Pancho's elephant, Elefancio and Abelardo's dog, Pulgas. He also meets a Multimonstruo and his dog, Fifi, who can read. Modesto chases after them, smelling another great story to report.

Closing
The trio displays the sponsors with a machine.