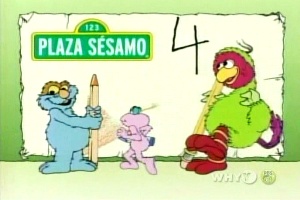 Picture
Segment
Description

SCENE
Dr. Circulostein shows Carmen his latest, greatest creation - a circle. Carmen points out that his invention already exists and shows him the circles around his laboratory. He then gets another invention idea - the triangle!

Cartoon
Lightning bugs make shapes.
Artist: Fred Garbers
(EKA: Episodio 734)

Film
A girl talks about life on her farm.

Cartoon
A woman identifies farm animals by their sounds.

Muppets
Elmo reads a story he's written about a pair of farmers who can't find the front, back and side of their cow. Another farmer, played by Elmo, helps them out.

Film
What sound does a cow make?

Muppets
Abelardo, Lola, Pancho leads the kids in "Don Pirulí."
(EKA: Episodio 747)
This segment is replayed during the credits.

Cartoon
A girl bounces a soccer ball 30 times.

SCENE
Pablo and Susana try to get their photo taken with the kids, but the photographer can't figure out who show sit in front of the bench and who sits in back.

Cartoon
A girl's extended family gets their photos taken.
(EKA: Episodio 742)

Song
"My Little Baby"

Cartoon
V for Vaca

Muppets
Kermit sings "Do-Op Hop."

Film
A boy visits a photo studio to get a picture taken for his sports club ID.

Cartoon
A cowboy adds two different herds of cows.

SCENE
Lola introducers her cousin Lalo and the two point out the ways they're different. They do have something in common - they're love for each other.

Closing
The trio displays the sponsors with a machine.
Community content is available under
CC-BY-SA
unless otherwise noted.