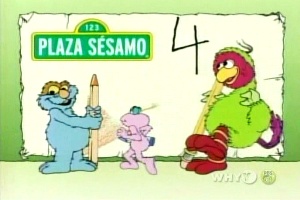 Picture
Segment
Description

SCENE
Lola sees a Multimonstruo polishing a letter R and she comes up with R-word animals. It turns out to be a part of the monster's racecar, which makes an "Rrrrrrrr" noise as it drives off.

Cartoon
A woman fixes her car by putting a letter r under the hood, and it goes "Rrrrrrrrrrrrrrrrrrr!"

Film
A boy puts together his toy car, which is similar to how his uncle does it in a car factory.

Cast
Everyone from the plaza plays "La Rueda de San Miguel."
(EKA: Episodio 737)
This segment is replayed during the credits.

Muppets
An unseen voice tells Zoe to "Follow the Dots" and make a number 3.

Song
"Feeding Time"

Cartoon
Three kids use lightbulbs to form a number 3.
(EKA: Episodio 733)

Film
What sound does a baby chick make?
(EKA: Episodio 746)

Cartoon
"The Room Is Full of Chickens"

SCENE
The entire plaza gathers to watch a soccer match on TV, but La Abuela can't see from the back; everyone blocks her view when they stand up and cheer.

Cartoon
The Sporty 3 catches 3 of various balls.

Film
A boy talks about his soccer team.
(EKA: Episodio 735)

Cartoon
Three blobs form a number 3.

Muppets
Telly and Baby Bear are going to play catch in the park. Telly lobs the ball toward Baby Bear and it bops him on the head. Baby Bear moans in pain, but it goes away after a minute. They try playing again, but when Telly throws the ball, Baby Bear instead covers his head and runs away.
From episode 3443 of Sesame Street.
(EKA: Episodio 745)

Song
"Take a Breath" (Re-filmed version)

Cartoon
"Growth of Animals"

Song
"I'm a Polar Bear"

Cartoon
A seal and a bear fight over a circus ball, but learn to cooperate.
Artist: Frank Gresham
(EKA: Episodio 745)

SCENE
Lola wears a bear costume in hopes she will fool others. Neftalí instantly recognizes her and sings about how he knew - her face.

Closing
The trio displays the sponsors with a machine.
Community content is available under
CC-BY-SA
unless otherwise noted.