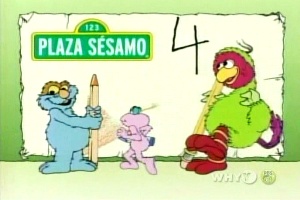 Picture
Segment
Description

SCENE
A sign falls from the sky reading, "Echen paja" (Throw straw). Abelardo, Carmen and Pablo don't understand what the message means. Pancho immediately figures it out and has Don Boni prepare a spot of hay, which Barón Púrpura uses for his parachute landing.

Cartoon
In the "cielo" (sky), a bird is nearly hit by an airplane.
Artist: Oscar González Loyo

Film
A girl likes to pretend she can fly.
(EKA: Episodio 731)

Muppets
Abelardo, Lola and Pancho sing "Brinca la Tablita" with the kids.
(EKA: Episodio 734)
This segment is replayed during the credits.

Film
What sound does a horse make?

Muppets
Marshal Grover learns about front and back when he rides his horse the wrong way.

Film
A boy finds a girl reading and declines her invitation to read with her. Suddenly, all the beings from her book appear behind them and she marches off with them, leaving the boy dumbfounded.
(EKA: Episodio 743)

Film
Your feet can walk both forward and backward.
(EKA: Episodio 741)

SCENE
Modesto Microfono looks to interview the local soccer star, whose jersey reads "16." He finds a boy with a jersey that matches the description, but the boy says he's not the player - his shirt was a gift from his mother.

Cartoon
A kid tries to push his toy house through the front door without the door closing.
Artist: Paul Fierlinger

Muppets
Herry Monster and a girl sing "A Song for Two."
(EKA: Episodio 743)

Animation
Colored tools build a house out of colored rectangles, squares and triangles.
(EKA: Episodio 732)

Song
"Look a Little Closer" (house)

Cartoon
C for Casa

Film
A large family assembles for a group photo.

Cartoon
Number Creatures #16

SCENE
Maria and Señor Lechuga close up shop for the day, but Señor Lechuga keeps forgetting things in the store (as well as forgetting to turn off the lights).

Closing
The trio displays the sponsors with a machine.