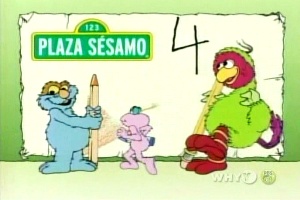 Picture
Segment
Description

SCENE
A Multimuppet man has an "ENTRADA" (enter) sign and tries to give it to Don Boni for his shop. He doesn't need it, so he turns him toward Maria at the fruit store. She also turns it down. Abelardo takes the sign off his hands, using it for his doghouse.

Cartoon
A loud-voiced girl talks about her dog Pete.
Artist: Bruce Cayard

Film
"Simple Pleasures" is sung over footage of a dog catching a girl's frisbee on a beach.
(EKA: Episodio 745)

Cartoon
A dog uses his memory to remember where his bone is buried.
Artist: Irra Verbitsky

Film
The kids have fun playing "Doña Blanca" with pillars made of chewing gum and chocolate.
(EKA: Episodio 740)
This segment is replayed during the credits.

Muppets
Kermit tests two blindfolded monsters and asks them which number they're feeling. Herry Monster minus his blindfold describes how he knew the number was a five and in the process breaks the five into pieces. Cookie Monster attempts to feel the number and Kermit tells him that he can't since its broken. Cookie Monster devours the pieces and tells Kermit it tastes like a five.

Film
Farmer McFay subtracts green apples from 5 to 3 to 1 and is bothered by a fly.

Animation
The letter X in various typefaces.

SCENE
Pablo tells a bedtime story about an explorer looking for treasure. He struggles to scale a mountain, only to find there's no treasure there. He falls down the mountain, discovering the treasure down below. The kids want to hear the story again, to the dismay of the explorer.

Cartoon
A family goes over their camping checklist before they leave for the woods.

Film
A boy talks about his family's stay in the woods.
(EKA: Episodio 733)

Muppets
The Mostly Monster Festival Choral Society presents "The Alphabet, Theme and Variations," by Mozart.
(EKA: Episodio 735)

Film
Elmo (in voice-over) points out two girls are away from each other on a bench and they then become next to each other.
(EKA: Episodio 735)

Cartoon
X Marks the Spot - a pirate digs and finds an X, which is a part of "Mexico."

SCENE
Lola has the belt of a prince she wants for her ballet. A man comes by, asking to try it on, only he doesn't know how to wear the belt. He finally puts it on right, turning into a prince, who requests Lola find his other missing articles of clothing.

Closing
The trio displays the sponsors with a machine.
Community content is available under
CC-BY-SA
unless otherwise noted.