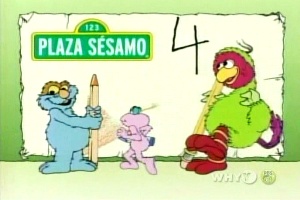 Picture
Segment
Description




SCENE
Rebeca Mankita joins Verduberto as a special guest for today's cooking show. She helps him with his 15-spoon recipe, adding 15 spoonfuls of flour to his latest concoction (while helping him remember certain numbers). The recipe results in an actual number 15 in the pot.

Film
Growing Numbers #15
(EKA: Episodio 746)

Cast
Carmen cheers up some kids with a song about how special they are.
(EKA: Episodio 731)

Cartoon
El Muñeco tells a riddle about the sun.
Artist: Oscar González Loyo

Muppets
Ernie & Bert — Ernie thinks that he isn't special. Bert tells Ernie to feel his nose -- "That's an Ernie nose!" -- and then feel his hair, and wiggle his fingers. Bert says that nobody else is just like Ernie. Encouraged, Ernie tells the audience to do the same.

Cartoon
A face is squeezed into a rectangle and square.
(EKA: Episodio 733)

Animation
Arrows give a presentation of the human body.
(EKA: Episodio 744)

Cartoon
S for Sol (sun)
(EKA: Episodio 739)

SCENE
Daniela, Abelardo and others sing "Ahora Si Puedo."
This segment is replayed during the credits.

Animation
A rectangle floats in space.
(EKA: Episodio 740)

Film
Kids talk about what they want to be when they grow up.
(EKA: Episodio 731)

Animation
Counting to 15 (Oriental music)
(EKA: Episodio 746)

Muppets
Katie helps Basil tie his shoes.
Taken from Sesame Park.
(EKA: Episodio 743)

Cartoon
A "sapo" (toad) hops from rock to rock, then falls in the water.
Artist: Oscar González Loyo
(EKA: Episodio 739)

Song
"Frog Struggle Song"

Cartoon
How do frogs make more frogs? The birth and growth of a frog is documented. At the very end, the fully-grown frog hops in the middle of a field and calls out, "Hey, Kermit!"
Artist: Cathryn Aison

SCENE
Abelardo tries to tell Maria something, but his words are drowned out by nearby Multimuppet jackhammering. When his work is through, Abelardo is finally able to tell her that there's construction going on today and it may be noisy.

Closing
The trio displays the sponsors with a machine.