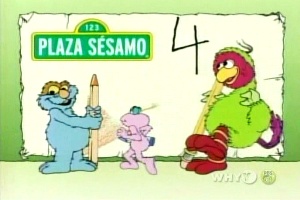 Picture
Segment
Description

SCENE
Maria, Pablo and Daniela sing about vegetables at the market. Pablo considers making a salad with onions, but Pancho walks off with the entire stock.

Cartoon
Agui Aguillita talks about washing fruits and vegetables before eating them.

Film
A girl talks about her life on the farm.

Cartoon
A poem about Hannah and Anna who lead similar lives in the city and the country.
(EKA: Episodio 746)

Muppets
Monsterpiece Theater: Fiddler on the Roof

Cartoon
A violinist plays, until his strings break.
Artist: Jeff Hale
Edited from a Consonant Sound Poem

Film
Sounds Around the House #1

Cartoon
Four painters
(EKA: Episodio 741)

SCENE
Daniela Luján and Abelardo perform "Por Un Mundo Mejor."
This segment is replayed during the credits.

Cartoon
King Minus and the Disappearing Dragons

Film
On stage, a girl tells her crowd a riddle about the stars.
(EKA: Episodio 733)

Cartoon
Fish form G and g.
(EKA: Episodio 750)

Muppets
Ernie comes from finishing his bath, and tells Bert that there's something that he forgot. Bert asks if he's washed behind his ears, his neck, and his elbows. Finally, Ernie remembers that he forgot to turn off the water in the tub -- as the water level rises.
(EKA: Episodio 732)

Animation
Pictures of cats.

Song
"This is How We Take a Bath"
(EKA: Episodio 751)

Animation
Planet G / g

SCENE
Gertrudis styles Pepe's hair so that it isn't so long.

Closing
The trio displays the sponsors with a machine.